Dominican Republic agents kill 2 drug traffickers, seize 446 Ks(Update2)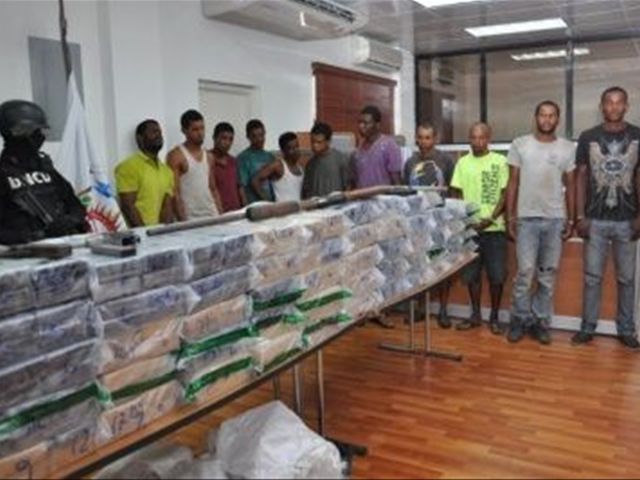 Santo Domingo. – The body of another suspected drug trafficker killed by antinarcotics agents (DNCD) in the deadly raid at Punta Arena beach was found Friday, where around 440 kilos of cocaine were seized near the village of Juancho, Pedernales province (southwest).
File,- A group of drug traffickers opened fire on an antinarcotics agency (DNCD) helicopter to keep it from landing, where the drug was being offloaded at a beach near Barahona (southwest), smuggled aboard a speedboat from South America.
The DNCD agents equipped with night vision returned fire on the drug traffickers, killing one shooter, reportedly a Colombian national, and wounding at least three, tentatively identified as Samboy Samuel Perez, Luis Turbi and Gregorio Terrero.
The agents were helped by another team which arrived by land at the rugged site and backed by army troops of the 5th Infantry Brigade.
DNCD president Julio Cesar Souffront headed the operation on another helicopter, while the seizing drug was transferred to agency headquarters in Santo Domingo, according to outlet eldia.com.do.
The shootout occurred at Buncan Planzo near the town of Oviedo, a beach often used by drug trafficking vessels due of its many hidden coves and freshwater springs.
According to eldia.com.do, the speedboat apparently hit a reef and dropped some of the bricks into the water, which then washed ashore, part of which were later seized from locals who stay overnight in the area.
The DNCD had found a boat abandoned in that area several days ago which a subsequent investigation determined it have smuggled of a large shipment of cocaine.
After the craft was found, the DNCD personnel in the area was substituted, paving the way to detect the latter drug shipment.