Seven Pakistanis, 1 Dominican nabbed for 'trafficking humans'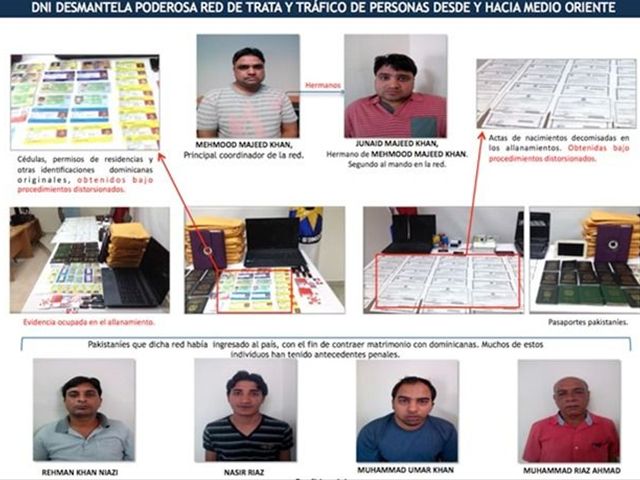 Santo Domingo.- The National Investigations Department (DNI) on Thursday said simultaneous raids at San Cristóbal and La Romana provinces and the National District led to the arrest of seven Pakistanis and one Dominican, charged with trafficking humans through a network.
the DNI said its Counterterrorism Division uncovered the network led by Mehmood Majeed Khan, a Pakistani who used the Dominican Republic as a bridge to smuggle people to the U.S. and Canada, using forged documents.
In a statement the DNI said Majeed Khan, convicted for the same crime in the U.S., "used the services of people who work in government agencies including the Civil Registrar at La Romana (east), through its manager Alfonso Fernández Tirado."
It said more than 30 fraudulently-obtained birth certificates were seized in the raids, as well as marriage records to send Dominicans and Pakistanis abroad.
Also seized were mobile phones, computers, storage devices, tablets, rubber stamps of local companies , used to carry out their operations.