Energy crunch tops menu at America Chamber of Commerce luncheon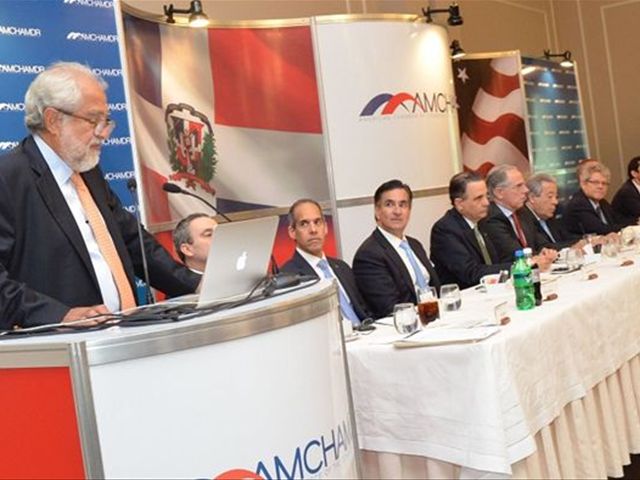 Santo Domingo.- The CEO of the company Interenergy on Wednesdaysaid they're willing to invest some US$200 million in the sector to helpresolve Dominican Republic's "historic" electricity crisis that has historically.
Rolando Gonzalez-Bunster said president Danilo Medinainvited the private sector to form a public-private partnership one year ago aimedat solving some of the country's main problems.
"I want to propose something I'm willing to proposeand put money on the table to solve, then thereafter the state will decide, thegovernment will decide, the president will decide if what I propose is worth it,"said González during the American Chamber of Commerce's (AMCHAMDR) monthlyluncheon.
He said the electricity sector' crisis can be solved with enoughinvestment, improved marketing of energy and averting the losses which heaffirms are as high as 35%.
"We're ready to provide all our expertise and, morethan that, we are willing to invest," said Gonzalez, who heads the PuntaCana-Macao energy group (CEPM), lauded as a model utility with gridlosses of only 5.19%, lower than the US, Europe and Canada, built at a cost ofUS$400 million, and which pioneered the prepaid in telemetry system, providingcontinuous power with negligible downtime.
Big business
National Business Council (CONEP) president Rafael Blanco alsospoke at the luncheon and said it's not possible to sign an energy pact beforethe May polls. "We feel that it's not possible to sign an agreement at thistime, the possibilities will come immediately after the elections are over."
AMCHAMDR
"We continue believing that investments in the sectorshould focus on increasingly cheaper, efficient and environmentally friendlygeneration, improving power line grids, and infrastructure and manage thesystems that reduce distribution losses and marketing with a minimum acceptable,and raise public awareness to make rational use of electricity," AMCHAMDR presidentof Gustavo Tavares said in the keynote speech