Bank accounts seized, properties raided in Kaluba ship drug case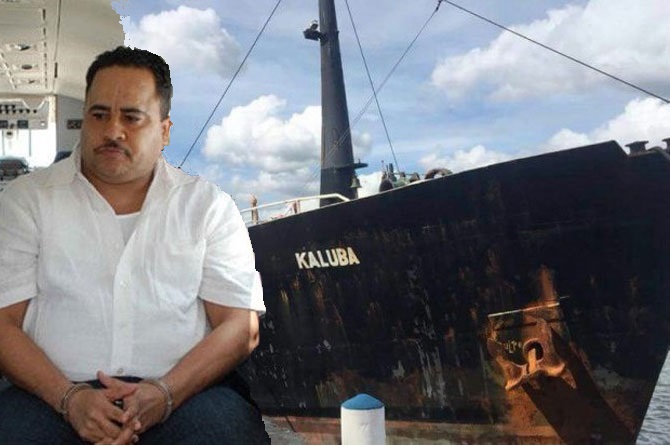 'Macon', Kaluba. Photo courtesy of Costa Verde DR
Santo Domingo.-The Justice Ministry on Tues. seized the bank accounts and real estate and other properties of Ernesto Bienvenido Guevara Díaz (Maconi), charged as head of the organization that smuggled 1,570 kilos of cocaine on the Tanzania-flag freighter Kaluba.
The seized drug came from Colombia, was shipped to Aruba, to the Dominican Republic from there, with the US as final destination.
The Office of the National District Attorney is expected to request one-year pretrial detention against Guevara and will ask the judge more time to investigate  the case .
"Maconi," Dante Meraldo Medina, Dante Wilfredo Medina Ozuna, and Carlos Julio Cuesta Feliz are charged with conspiracy, drug trafficking and money laundering.
The authorities say the network is linked to of drug trafficking for which s, so it carried out raids against the suspects.
Other suspects
Antonio Quijada Salazar, Silvio Fernando Ibarra Vega, Manuel Escobar Bolaños, Pedro Emilio Betancourt Tabio, Joel Ponce Ordóñez, Marvin Eucebio Lambert Harry , Salvador Gómez Cuevas, René Manuel Cuesta Féliz, Fermín Samboy Cuevas, Damerides Gómez Saldaña, Elvis Langomás Medina and Teurinson Valenzuela Samboy were sent one year of pretrial detention  .
The boat with accused, of Venezuelan, Colombian, Cuban, Nicaraguan, Honduran and Dominican nationality, was interdicted  some 200 nautical miles south of the country in international waters aboard the Kaluba, which was headed to Puerto Plata loaded with fuel.
Kaluba itinerary
May 5, 2017, Santo Domingo
May 15, 2017, Santo Domingo
May 30, 2017, Santo Domingo
October 13, 2017, Puerto Plata.
October 22, 2017, Barahona
5 November 2017, Puerto Plata
November 27, 2017, Puerto Plata.
December 15, 2017, Puerto Plata