NYC Mayor continues to enrage Dominicans over Haiti 'fusion'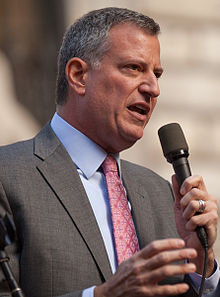 B. de Blasio. File
New York.- Dominicans in Upper Manhattan again accuse mayor Bill de Blasio, of continuing his plan to support the fusion of Haiti and the Dominican Republic.
Blas Mateo, Isidro Alcántara, Manuel Rivera, Antonio Torres, Elvira de los Santos, Hugo Gómez, Emilio Contreras, Thelma del Rosario and Víctor Domínguez, among others, say the Mayor has been developing his plan against the Dominican Republic.
In a press release, they cited de Blasio's alleged pressing for Haitians to participate actively in the Dominican Day Parade in Manhattan last Sunday, with banners and chants, supported by Parade president María Khury.
Moreover, the group notes that in 2014 he especially invited Haitian councilman from Brooklyn, Mathew Eugene, to the traditional meeting hosted by the Mayor's office prior to the Parade.
Before hundreds of Dominicans de Blasio at that time said, "here we have Mathew Eugene the councilman from Brooklyn, from Hispaniola Island, a statement which enraged the Dominicans present. "The Parade isn't about Hispaniola but of the Dominican community."