Agents arrest members of ruthless Puerto Rican drug gang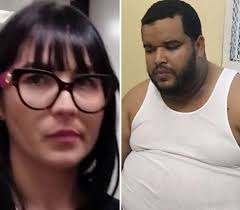 Janelys Delgado, Vladimir Natera. Photo eluevodia.com
Santo Domingo.- The National Drug Control Directorate (DNCD) on Mon. announced the arrest of Puerto Rican nationals Janelys Delgado and Fernando Hilario Figueroa, allegedly members of the drug trafficking gang Revolutionary Armed Forces of Cantera, Puerto Rico.
The DNCD also said that Delgado's couple is the alleged network's ringleader, Vladimir Natera.
DNCD president Félix Alburquerque, is expected to hold a press conference to provide more details of the arrests.
Puerto Rico federal prosecutor Rosa Emilia Rodriguez, had revealed on February 28 that members of the gang were hiding in the Dominican Republic.
Rodriguez added that among the ways the gang intimidated rival traffickers was to hurl them to crocodiles.