VP is the most popular Dominican politico, but not in votes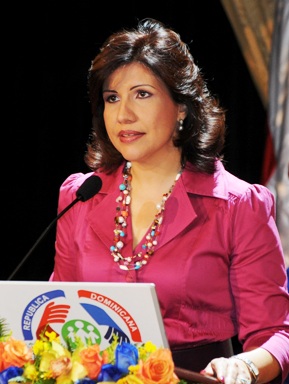 Santo Domingo..- Despite being Dominican Republic's most popular figure, vice president Margarita Cedeño isn't among the favorites for the 2020 election, according to the Mark Penn poll released Thurs.
The survey found that president Danilo Medina is the favorite to win the elections, although with only 30% of the intention of the vote.
When asked about 15 public figures, Cedeño leads with 54%, followed by opposition leader Luis Abinader 51%, Medina 51% and National District mayor David Collado with 43%.
Former president Leonel Fernandez, Guillermo Moreno, Hipolito Mejia, Ramfis Trujillo, Francisco Dominguez Brito, Eduardo Estrella, Minou Tavarez and Miguel Vargas round out the pack, according to the surveyed released by the economist Bernardo Vega.
He said the poll interviewed 1,007 voters face to face nationwide, with a margin of error of 3%.