Powerful gale leaves losses to the agriculture; destroys farms, roofs of houses and knocks down trees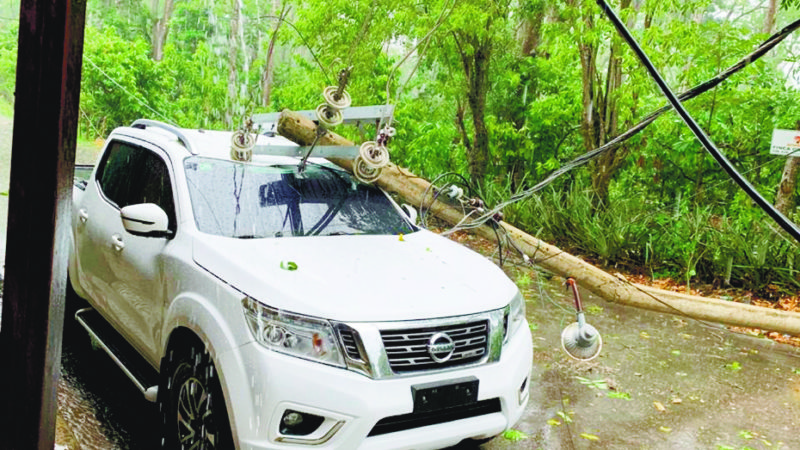 VILLA TAPIA.- The authorities of the Ministry of Agriculture and Civil Defense of the Hermanas Mirabal province have been carrying out a detailed study since Friday night to determine how many losses have resulted from a gale in several communities of this province. municipality. Today / Courtesy of Fernando Hiciano. 7/6/19
A strong windstorm affected yesterday around 3:00 in the afternoon the communities of El Hospital, Santa Ana, Maguey, Barranca (between Villa Tapia and La Vega) and La Ceiba, affecting houses, poles, and power lines and the agricultural production.
The phenomenon broke roofs of houses, swine and poultry farms that flew through the air and fell at distances of up to four and five blocks. It knocked down trees and power lines, causing serious damage to vehicles in this city. According to the provincial director of Agriculture, Hildo Mercedes, the affected areas are losing millions, so the technicians are evaluating the situation. Among the most affected crops are plantain, cassava, sweet potato, papaya, and other produce. Francisco Javier Almánzar, of the Civil Defense, said that they have evaluated the damages to present a report.
Help for producers. For his part, the mayor of this municipality, José Ernesto Abud, called President Danilo Medina and from today he instructs a commission of technicians from both the Ministry of Agriculture and the Presidency of the Republic that will help the affected area. He said that many producers lost their crops, which tends to cause serious problems, especially economically.
"As mayor of this municipality, we are very sorry about what happened to us this Friday, the situation is painful where producers of plantain, papaya, yucca, sweet potato, and others have suffered millions in losses, in addition in some farming communities their roofs have gone and many chickens and poultry have drowned," said José Ernesto Abud.
Electric service. Last night the company Transmisión Eléctrico (ETED) reported through its Twitter account that two 69kv lines were affected by the tornado that affected the La Vega, Rincón, La Vega PER, La Cabuya, and the Cabuya aqueduct substations, whose repair staff worked last night. Reports indicate that the lines were repaired after 11:00 pm.