Young adults under 25 have a majority in the voter register with 18.6%
The age range between 18 and 25 years is the one with the highest number of voters within the register of the Central Electoral Board (JCE). This group may vote on Sunday, October 6, when the simultaneous primaries of the Dominican Liberation Party (PLD) and the Modern Revolutionary Party (PRM) are held.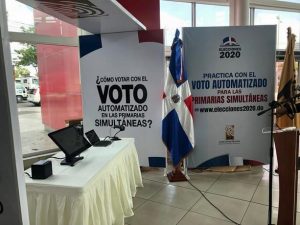 According to current statistics, that range has 1,356,962 members, a figure that represents 18.16 percent of the total.
The second-largest age group is between 26 and 30 years, with 879,125 voters, which is equivalent to 11.77 percent of those able to vote.
Seven hundred sixty-one thousand ninety-five people between 31 and 35 can vote. This figure represents 10.19 percent of the voters.
Next are 740,541 voters between 36 and 40, who occupy fifth place with 9.91 percent.
Between 41 and 45 years, 684,437 people can vote, amount with 9.16 percent of the total amount.
Six hundred fifty-six thousand eighty-seven citizens between 46 and 50 are capable of exercising their vote, 8.78 percent.
Those over 70 years of age occupy eighth place, with 6.98 percent at 521,556 voters.
While between 61 and 65 years, 398,214 people can vote, indicating 5.33 percent.
Those aged 66 to 70 represent 4.01 percent of the voters. In total, they add 299,218 voters.
In the last place are emancipated minors, who barely occupy 0.98 percent of the list with 25,482 in their ranks.
A total of 7,422,416 may exercise the right to vote to elect presidential candidates and other political candidates in the PLD, given the general elections of May 2020.
The cost of assembly and organization of the primary will cost 2.5 billion pesos.
The Dominican Liberation Party (PLD) will have open primaries, which means that those registered within the general register of the Board may vote.
However, the Modern Revolutionary Party (PRM) will hold the primary closed, so that only 1,296,483 registered within the register of the political organization may vote.
The presidential candidacy of the PLD could be in the hands of the former president of the Republic, Leonel Fernández; the former Minister of Public Works and Communications, Gonzalo Castillo; as well as Melanio Paredes and Maritza Hernández.
The PRM aspires to occupy the presidential chair with Luis Abinader, former president Hipolito Mejía, Wellington Arnaud, Rafy Bueno, Ramón Burgos, and Ramón Concepción.