Tropical cyclone could hit Lesser Antilles in the next 48 hours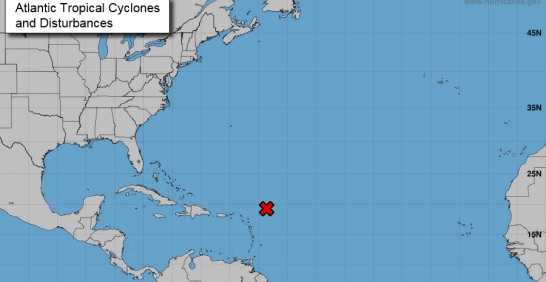 SANTO DOMINGO.- The National Meteorological Office (ONAMET) today warned of the possibility (70%) of an area of ​​showers and thunderstorms over the Atlantic Ocean becoming a tropical cyclone in the next 48 hours.
The agency reported the phenomenon is located hundreds of kilometers east of the Lesser Antilles.
On the other hand, Onamet predicted moderate downpours over the northwest, north, southwest, southeast, central mountain range and the border areas of the Dominican Republic, generated by a moisture trough and the passage of a tropical air mass.
The rains will continue on Wednesday accompanied by thunderstorms and gusts of wind, especially over the great Santo Domingo and the northeast, northwest, north, Central mountain range and the border area.