Families ease hangovers in parks after Christmas Eve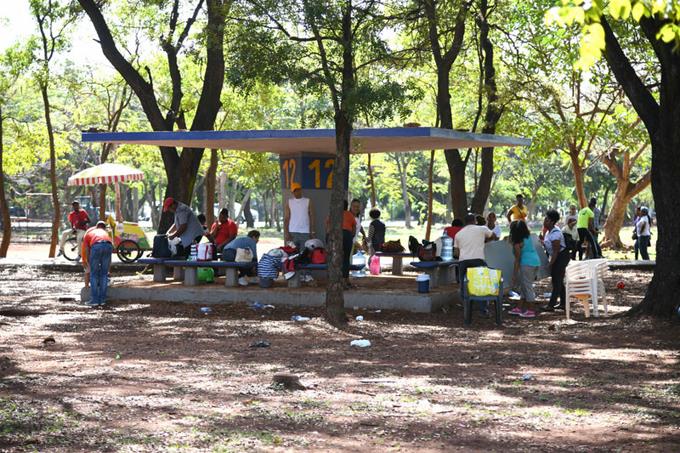 In the central part of the city, the situation was different from the neighborhoods, since supermarkets, department stores, beauty salons and most pharmacies were closed./ DAILY LISTIN
The city of Santo Domingo was experiencing "Christmas Eve hangover" yesterday after a night of excessive food, drinks, and parties.
Several capital families took the opportunity to go out to the parks and other places for recreation.
Some foundations and non-profit organizations toured the city to deliver food to people in need.
Three foundations, as every year on December 25, were dedicated yesterday to visit parks and the Malecon of Santo Domingo to deliver food to those who could not have dinner on Christmas Eve.
The entities Specialized Brigade in Rescue Tactics, Specialized Rescue Foundation, and the Special Rescue Brigade composed of young people from different sectors of the city went to the Malecon to deliver meals "to the children of already destitute streets."
They explained that it is a tradition that has been running for three consecutive years. These foundations also work in the preventive operation of Holy Week and train young people in prevention and rescue. They also facilitate courses in private institutions.
The environment
The traditional bustle in streets and avenues of the capital city disappeared, and until noon yesterday they were semi-desolate, urban transport was scarce and commercial establishments closed, including in the squares. Christmas Eve parties lasted until the wee hours of the morning, after the traditional dinner where meals and drinks abounded, sending many Dominicans to hospitals due to excesses. What many did not abandon was the tradition of "rehearsing at Christmas," as if it was already New Year's Eve.
The night of every December 24th, the Dominicans maintain the tradition of wearing new clothes.
Grocery stores and nightspots
Another traditional manifestation that was observed was the drinks in the grocery stores and patios or in the front of the homes of many who followed "Bolao" with the barbecue that started on Christmas Eve.
2020 schools.
Teaching in private and public educational centers is suspended until the beginning of January.
25 Every December.
Transportation stations reported they maintained their services since passenger flows always decrease every December 25.