Arsenal found in tank full of food from United States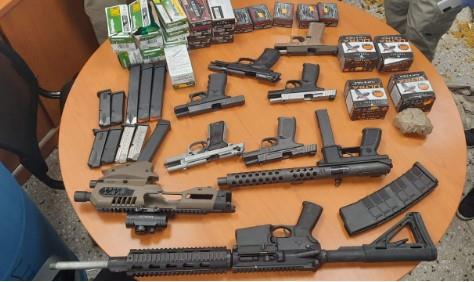 The National Police informed that police agents assigned to the Special Investigation Division of Transnational Crimes (DEIDET), together with the Customs Intelligence Management (GIA) and the Public Prosecutor's Office, through intelligence work, managed to seize a rifle, an Uzi, six pistols, and a total of 1,020 ammunition for handguns, rifles, and shotguns, all hidden inside a tank with necessities sent from the district of Brooklyn, New York, United States.
In this case, two men detained by the National Police for investigation purposes who are the recipients of the illicit merchandise found after it was detected by members of the General Military Security Supervisory Office (DGA) and the Intelligence Directorate of the General Staff of the Armed Forces (J2), in an X-Ray verification, last Tuesday, December 27.
The authorities found inside the tank an LR-GII rifle, cal. 5.56mm, serial EH009188; six pistols detailed: one Pietro Beretta cal. 9mm, serial BER770250; another Beretta, cal. 9mm, serial ASSY-9346487; one Glock 19, cal. 9mm, serial BRBB008; two Smith & Wesson, cal. 9mm, serial FXZ2791 and serial FBX7908; one model PF940C, s/n serial type, one Luger Uzi, cal. 9mm, serial D026822; 10 pistol magazines, one rifle magazine, one pistol holder; 250 cartridges cal. 5.56mm; 670 rounds of cal. 9mm, and 100 cartridges cal. 12mm.
The investigation process determined that a man sent the articles mentioned above (already identified by the Police, resident in Brooklyn, New York, to be received by a man, detained for investigation purposes, resident in La Jagua del Yuna, Duarte province.
The recipient of the merchandise went to the shipping company accompanied by another man, who was also detained for investigation purposes.
The data storage devices seized from the detainees were sent to the National Institute of Forensic Sciences (INACIF). The weapons were left in possession of the Public Prosecutor's Office, which will be taken to the Forensic Science Police for the necessary procedures.