Academy graduates 150 flight attendants and airline agents in the AILA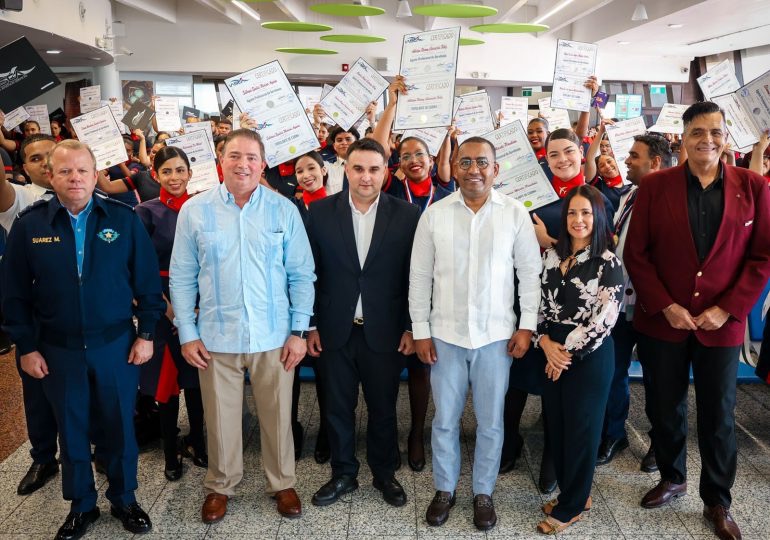 Santo Domingo.- At its headquarters in the country, the Inter Aviation Services (IASCA) training center celebrated a momentous event, graduating 1,503 specialists in Cabin Crew and Professional Airline Agents. The graduation ceremony took place mid-flight, adding a unique touch to the occasion. The event was graced by esteemed figures from the Airport Department (DA), Civil Aviation Institute (IDAC), and the Specialized Corps of Airport Security and Civil Aviation (CESAC).
During the ceremony at the Las Américas International Airport (AILA), Juan José Miquilena, the director of the academy, emphasized the significance of this post-pandemic group of graduates, who will play a vital role in revitalizing the aviation industry. He encouraged them to continue their pursuit of excellence and focus on their aspirations.
Irma Saldivar, a standout graduate with the highest average percentage, addressed her fellow graduates and highlighted the importance of cabin crew responsibilities, which extend beyond passenger comfort to ensuring air safety. Likewise, Gladys Morel Vargas, another honors graduate, expressed her gratitude for the recognition of their year-long efforts. She emphasized that being a flight attendant involves a diverse skill set, from understanding equipment and plane evacuation procedures to working harmoniously with people from various cultures.
In a groundbreaking announcement, the academy revealed plans to construct the largest headquarters of its kind in Latin America, right here in the Dominican Republic. This milestone marks a promising future for aviation training and development in the region. The graduates were reminded of the academy's commitment to their journey and how they may find themselves soaring in the clouds of success, just as their predecessors had experienced after their training at IASCA.