Country joins regional thrust to protect species that face extinction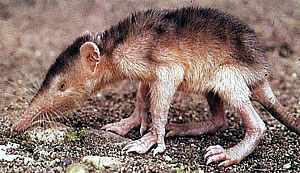 "Living fossil' Solenodonte
La Paz.- Delegations from 10 Latin America and Caribbean countries are meeting in Bolivia to draft a proposal to protect 35 wild species that face extinction in the region, EFE reports.
The proposals are being debated at a regional workshop ahead of the 12th Conference of the Parties to the Convention on the Conservation of Wild Migratory Species (CMS) in the Philippines in October, said Bolivia's Environment and Water agencyin a statement.
Representatives from Argentina, Bolivia, Brazil, Colombia, Costa Rica, Dominican Republic, Ecuador, Honduras, Paraguay and Peru will attend the meeting, which will conclude this Thursday in La Paz.
Key aspects of the "Strategic Plan for Migratory Species 2015-2023" as well as the budget and work program for the Convention will be discussed.
Bolivian Environment and Water minister, Carlos Ortuño said the meeting addresses "a series of crucial problems" referring in particular "to species of migratory behavior that don't consider international borders," so "actions among countries should be carried out jointly."
Comments