Bobadilla, Paulino win Charles T. Manatt Ambassador's Golf Cup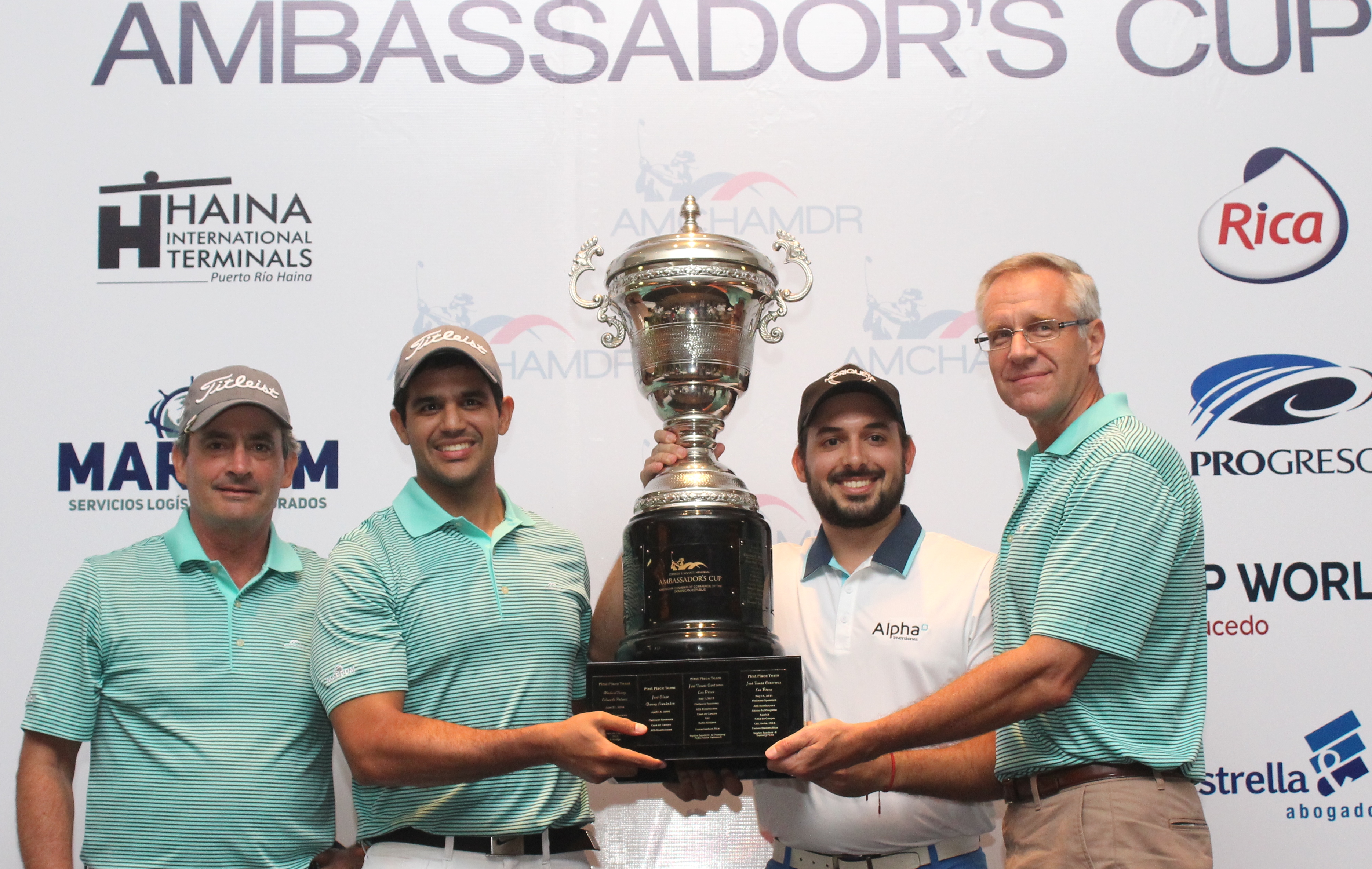 William Malamud, Alejandro Bobadilla, Gian Paulino. Robert Copley
La Romana, Dominican Republic.- Alejandro Bobadilla and Gian Paulino, with 65 strokes, won of the Charles T. Manatt Memorial Golf Ambassador's Cup 2018, of the Dominican Republic American Chamber of Commerce (AMCHAMDR ), played Sat. at the Teeth of the Dog (Diente de Perro) links, in Casa de Campo, La Romana.
AMCHAMDR vice president William Malamud kicked off the tournament played in categories A, B and C, accompanied by US Embassy interim ambassador Robert Copley.
Play started at 9am marked by camaraderie and sportsmanship, with all 18 holes completed by 3pm, after which the competitors  went to Casa de Campo's Flamboyán salon for lunch and the award ceremony.
Winners
Julio de Jesús and Jorge Elmudesi won first place in category A after a tie-breaker per card and a final 65 strokes; second place in the same category went to Frank Adames and Luis Namnum (65) and third went to Juan Tomás Mejía and Alain Abreu (66).
Category B
José Nicasio and Pedro Goico (62) first; second (64), Servio Lizardo and Gustavo Betances, Mario Torres and Euclides Reyes (64) third.
Category C
Ariel Ramírez and Paúl Sánchez first (62), Joel García and Rubén Abreu (65), Máximo Vidal and Edgar del Toro (66).
Among the special prizes, Juan Tomás Mejía won "Longest Drive" and Luís Mejía in "Closest to the pin."
The award ceremony in the Flamboyán also featured gifts raffled among the players, after which Malamud thanked the players and event sponsors.
Other special prizes, in this occasion awarded by Claro, included the invitation for the first place winners in each category to attend the Copa Claro 2018 golf tournament that will be held in September. In this award classification the winners were Julio de Jesús and Jorge Elmudesi (category A), Alejandro Bobadilla and Gian Paulino (category B), and Ariel Ramírez and Paúl Sánchez (category C).
Sponsors and collaborators
In the category of our exclusive Elite Circle, the Ambassador's Cup 2018 golf tournament was sponsored by: Claro Dominicana, Barrick Pueblo Viejo, Citi, Bepensa Coca Cola, Pasteurizadora Rica, Squire Patton Boggs, Human, Martí, Haina International Terminals and Start, in addition to the Platinum category, Banco del Progreso, Casa de Campo, Coway, Mardom, Banco Popular, Columbus and Helidosa.
Also in the Gold category are DP World Caucedo, BanReservas, Presidente Beer, AES Dominicana, Estrella y Tupete, and ARS Palic.
In the Silver category, the event was supported by EPS, Hunter, Popular Association of Savings and Loans, Delta Airlines, Ontier Alburquerque and Blindatech Caribe.
Other companies that also collaborated with the tournament were Orbitarq with a Hole in One, and as collaborators, the Gentleman magazine, Banco BHD León, Chivas, Emilio's, Ron Brugal, PriceWaterHouse Coopers, Makinas, Café Santo Domingo, La Aurora, SportCity, Powerade, InShape, Álvarez and Sánchez SA, and Taurus Security Service.