Dominican destination makes for unforgettable nuptials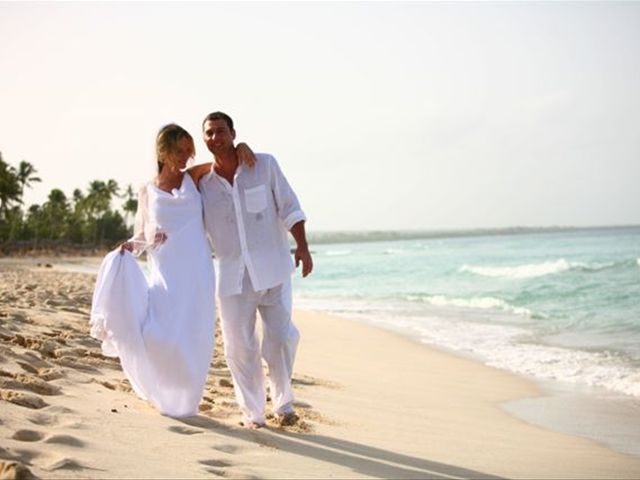 Dominican Republic /PRNewswire/.- Countless couples arechoosing to begin married life with a destination wedding in DominicanRepublic. Whether you're planning a blow-out celebration or an intimateceremony, Dominican Republic's historic charm, lush nature, breathtakingbeaches and opulent accommodations combine to create a one-of-a-kind settingfor an unforgettable dream wedding.
With eight international airports throughout the countryand nonstop flights available on multiple airlines from the United States,Dominican Republic offers an ease of access that makes it a natural selectionfor couples planning a destination wedding. World-class properties offeron-site, personal wedding planners to handle all of the day-of details, makingsure any wedding day is worry-free.
"Weddings in Dominican Republic are truly magical,offering couples a variety of settings to celebrate the start of their livestogether," said Magaly Toribio, marketing advisor for the DominicanRepublic Ministry of Tourism. "Our hotels, tour operators and weddingvendors are adept at anticipating the needs of family travel groups, makingDominican Republic a wonderful destination for wedding groups both big andsmall."
What's your wedding style? Whether you've always pictured asunset ceremony on the beach or dreamed of a traditional wedding in a churchthat's rich with historic beauty, Dominican Republic has something to fit everycouple's personal taste and budget.
Old-World Charm: A destination wedding doesn't have to meanforfeiting the formality of a traditional ceremony. Marry at the ornateCatedral Primada de America in the first city of the new world, the ColonialCity within Dominican Republic's capital of Santo Domingo. Cobblestone streetsharken back to the colonial days to create memories that will last a lifetime.Also in the Colonial City, Iglesia de las Mercedes is a majestic church builtmore than 500 years ago that provides the perfect backdrop for an elegantCatholic ceremony. You can also plan your nuptials in Convento de losDominicos, a 16th-century building, or book your big day at the Museo de lasCasas Reales, a museum that once served as the Spanish governor's royal court.For historic charm outside of the capital, Catholic couples can say "Ido" in Altos de Chavón, a replica of a 16th-century Mediterranean villagein the La Romana province. You'll walk down the aisle in a ceremony in St.Stanislaus Church while overlooking the Chavón River.
Natural Nuptials: Eco-conscious couples will find their ownslice of paradise in Dominican Republic. The Samaná Peninsula, known for lush,unspoiled nature and magnificent beaches, takes couples off the beaten path andinto one of Dominican Republic's hidden natural gems. Lovebirds can plan awedding in quiet Las Galeras, located at the tip of the peninsula and home to numeroussmall hotels and bed & breakfasts—perfect for an intimate wedding orhoneymoon escape. For couples seeking a beachside city vibe, Las Terrenasdelivers, offering a mix of distinctive restaurants and bars alongsidebeautiful white sand beaches dotted with picturesque pastel wooden fishingboats. After the wedding, escape to Los Haitises National Park, located justsouth of the Samaná Peninsula. Enjoy a boat tour of the mangroves and findyourself surrounded by countless species of birds, plants and mammals. OnDominican Republic's north coast, the Puerto Plata province also offers uniquenatural beauty of its very own, set against a backdrop of mountains and milesof coastline. The area is a hub for thrill-seekers, and adventurous coupleswill fall in love all over again while climbing the 27 Waterfalls of Damajuaguaand cascading back down by jumping off cliffs or sliding down water chutes.
Seaside Sophistication: Find your fairytale all-inclusivein Punta Cana, which was named the #1 destination in the Caribbean in 2016 bythe TripAdvisor Travelers' Choice Awards. Azure waters and powder-white beachesbring weddings here to life, with hotels offering packages designed to fit alltastes and budgets. Wedding planners help couples work within their budgets tomap out every detail, including day-of itineraries, flowers, menus and evenhair and makeup. Beyond Punta Cana, couples flock to La Romana for chicaccommodations along the water. Casa de Campo is a favorite getaway amongcelebrities, and for good reason—the resort and villa complex gives couplesexclusive access to La Romana's marina, along with gourmet restaurants,world-class golf courses and beautiful private beaches. Just off the coast, daytrips to Saona Island and Catalina Island offer secluded paradise forhoneymooners and newlyweds.
Cosmopolitan Chic: Plan a stylish wedding in the vibrantcapital city of Santo Domingo. The JW Marriott Santo Domingo is located in thecity's high-end shopping district. Work with an entire team of wedding specialistsfor a memorable and luxurious day at this trendy destination, where you andyour guests will also be able to take advantage of close proximity to thecommercial district, the colonial zone and the airport. Hotel el Embajador isalso conveniently located in the capital, just a stone's throw away frommuseums, shops and restaurants. Couples can work with an on-site planner to mapout every detail of their special day, planning a ceremony or reception in thehotel's elegant indoor or outdoor spaces. In Santo Domingo's historic ColonialCity, the Hostal Nicolas de Ovando offers a romantic ambiance for both weddingsand honeymoons. Once the home of Santo Domingo's founder, the hotel dates backto 1502 and provides the perfect combination of history, charm and upscaleamenities.
There's no need for cold feet when planning your dreamwedding in Dominican Republic. For more information on wedding and honeymoondestinations in the country and for details about wedding paperwork andrequirements, visit www.GoDominicanRepublic.com.