Dominicans add Paraguay to list of visa-free countries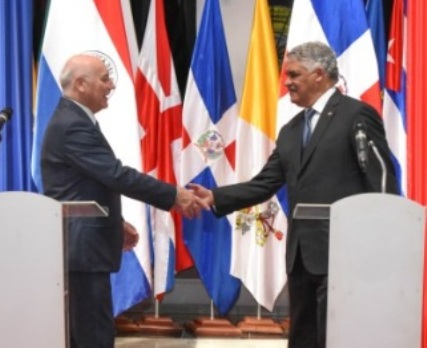 Eladio Loizaga, Miguel Vargas. Photo elnuevodiario.com.do
Asunción, Paraguay – The Dominican Republic and Paraguay on Sunday agreed to mutually eliminate the visa requirement between the two countries, and signed three other bilateral agreements, as part of the visit of Foreign minister Miguel Vargas' official visit to the South American nation.
With the measure Dominicans can now travel visa-free to Panama and Guatemala, in addition to Paraguay
Vargas and Paraguay counterpart Eladio Loizaga signed the Visa Waiver Agreement for ordinary passport holders between Paraguay and the Dominican Republic
The officials also signed key agreements between Paraguay's National Tourism Secretariat and Dominican Republic's Tourism Ministry, among others.
Loizaga stressed the importance of Vargas' visit, the first official such encounter in the history of Santo Domingo-Asunción bilateral ties and thanked him for the designation of Paraguay as a guest country in Santo Domingo's International Book Fair, from April 21 to May 1.