Over 200 beaches, swimming spots off limits to prevent deaths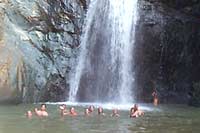 Baiguate waterfall, off limits
Santo Domingo.- Around 205 beaches and swimming spots where declared off limits nationwide, to prevent fatalities among vacationers during Holy Week that begins on Sunday.
The Emergency Operations Center (COE) said the measure forms part of Operation Holy Week 2017, "Lennt Vigil for your Values ​​and Safety,", which will start Thursday, April 13 at 2pm and concludes at 6pm on Resurrection Sunday.
COE director Juan Manuel Méndez said the bans seek to reduce the number of fatalities during Holy Week.
He said 24 beaches and swimming spots were shuttered in the National District; 12 in Monte Plata; 15 in Santiago; 7 in Puerto Plata; 5 in Espaillat; 9 in Mao Valverde; 6 in Santiago Rodríguez and 7 in Montecristi.
In San Pedro de Macorís 22 were closed; 2 in El Seybo; 4 in La Romana; 5 in Duarte; 6 in Nagua; 8 in Samana; 5 in La Vega; 9 in Monsignor Nouel and 7 in Sánchez Ramírez.
In Peravia 15; In San Cristóbal 12; Barahona 9; In Pedernales 2; In Azua 4; In San Juan de la Maguana 7 and 3 in Elías Piña.