Tourist arrival numbers by air and sea up in Puerto Plata in summer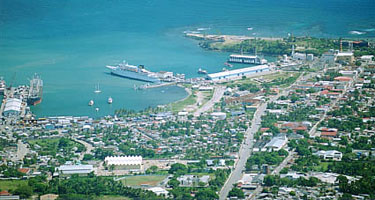 PUERTO PLATA HAS RECEIVED 320 THOUSAND TOURISTS THROUGH THE AIRPORT AND MORE THAN 117 CRUISE SHIPS

The first half of the year has been very positive, according to Julio Almonte

The growth of local tourism is valued in the area
The tourist destination of Puerto Plata in 2019, as projected, has continued its growth trajectory, since within the first six months, January-June, it has received around 320,000 tourists by air.
With the arrival of the aforementioned visitors, the destination has exceeded the hotel occupation of the last year 2018 by registering in the first half of 2019 between 66 and 70%.
This was indicated by Julio Almonte, Vice Minister of Tourism for the North Zone, he also informed that the occupational average of the area is between Puerto Plata, Sosúa and Cabarete.
Regarding the arrival of cruise ships to the Amber Cove port, Almonte said that from January to August Puerto Plata has received 117 ships with around 516,103 visitors, of which 389,149 have been passengers and 126,954 crew.
"Since the cruise market began in Puerto Plata in October 2015 and after 24 years without receiving cruise ships, the destination has so far received 574 cruise ships with a total of 2,426,563 visitors, which strengthens the destination as the number one in this tourist segment of the country," he added.
 He said that of that amount 85 to 90% are Americans. 
The Mitur official said that this strong growth of the cruise segment has generated an average expenditure among visitors of 80, 90, 100 and 120 dollars, which keeps the economy of the area very active.
 "This is because 85% of visitors who arrive at the destination via cruise ships go out of port for excursions and consume local products," he said.
Almonte valued the sustained growth that the North coast maintains with the arrival of foreign tourists without neglecting the growth of local tourism, which during the first half of the year 2019 has generated the visit of more than 300,000 people. 
"National tourism is very important for the destination because it does not stop to visit what is already known, but rather that it explores, again and again, the corners of -the Atlantic bride- because it knows that Puerto Plata has much to offer tourism," Almonte noted.