As if it were in the Dominican Republic: Migrants selling at traffic lights on the streets of NY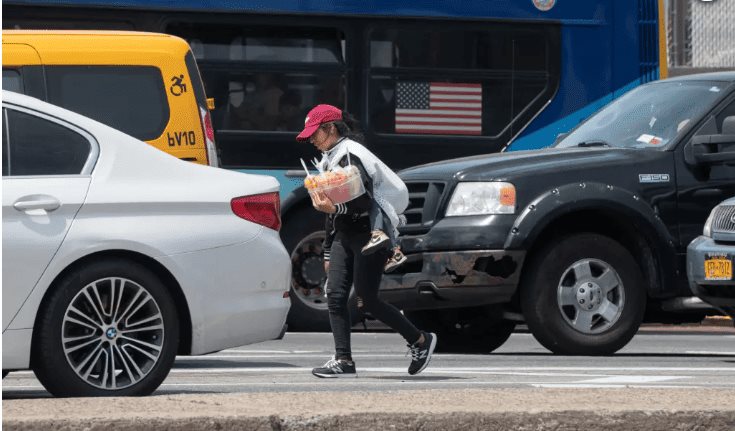 Migrants with their children have been observed selling various food items such as water, soft drinks, fruit, and sweets on the streets of New York City, as captured by several local media outlets. Reporters have been monitoring these cases and noted that over the past two weeks, these scenes have been observed on busy and hazardous streets including Harlem River Drive, FDR Drive, West Side Highway in Manhattan, Woodhaven Boulevard, and Myrtle Avenue in Queens.
Some of the street vendors expressed that their intention is not to sell on the streets but rather to have a "real" job in the United States, as reported by the New York Post. The vendors who were photographed stated that many people criticize their presence and tell them they shouldn't be selling in such a manner, especially with their children. However, they explained that some days they have no alternative childcare options, and if they don't work, they cannot afford to pay rent or buy food for their babies.
The newspaper reports that authorities seem to overlook these street vendors, who are mostly migrants that entered the US through the southern border with Mexico. Just recently, New York City Mayor Eric Adams voiced his concerns regarding the inadequate funding provided by the Federal Emergency Management Agency (FEMA) to support the city's reception of Central and South American immigrants crossing the southern border. Mayor Adams stressed that out of the allocated $350 million, only $30 million was allocated to New York City, which does not adequately address the situation.
He further emphasized that relying solely on FEMA funding to relocate immigrants to New York City is not a sustainable solution for border states.