Haiti seeks mediation from Tony Blair in conflict with the Dominican Republic over the Massacre River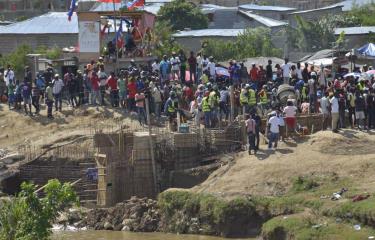 Riyadh, Saudi Arabia.-  Haitian Prime Minister Ariel Henry recently met with former British Prime Minister Tony Blair to discuss the ongoing border dispute with the Dominican Republic, particularly regarding the construction of an irrigation canal on the Masacre River in the Dajabón province. This meeting took place in Riyadh, Saudi Arabia, where Henry was attending the Caribbean Community (Caricom) – Saudi Arabia summit.
During their meeting, Henry explored with Blair the potential role of Blair's foundation, the Institute for Global Change, in mediating the conflict. The aim is to facilitate the resumption of talks and normalize relations between Haiti and the Dominican Republic, ensuring respect for the rights of both nations.
Tony Blair, who served as Prime Minister of Great Britain and Northern Ireland from 1997 to 2007, founded the Tony Blair Institute for Global Change post-retirement. His institute operates in several countries, and Blair is known for his involvement in various diplomatic situations globally.
The conflict between the Dominican Republic and Haiti centers around the irrigation canal construction on the Haitian side of the Masacre River. In response, the Dominican government had temporarily closed the borders, later reopening them with certain restrictions. In a related development, Haitian municipal authorities in Juana Méndez have reportedly decreed a ban on the entry of products purchased by Haitians in the binational market of Dajabón.