Sustainability forum held in Punta Cana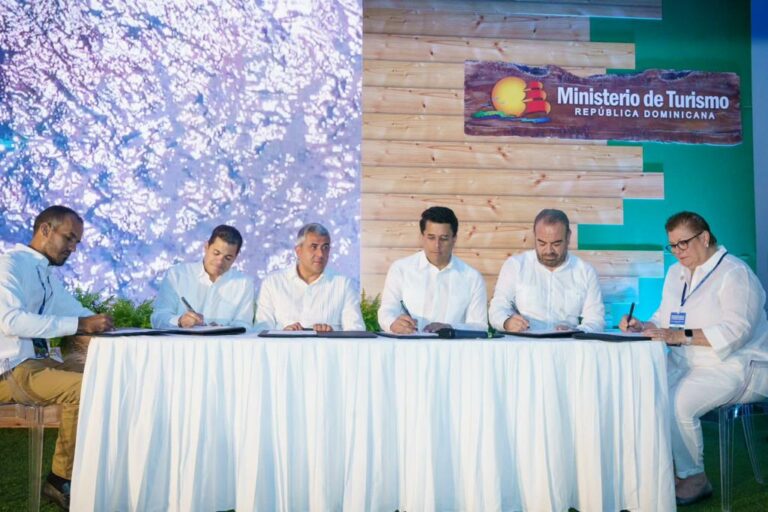 Punta Cana.-  The tourism sector of the Dominican Republic recently hosted the first international forum on sustainable tourism, a significant event that chose the country as its venue for the first time. The forum provided an ideal platform for industry stakeholders to discuss and analyze the advancements, experiences, strategies, and challenges of sustainable tourism.
During the event, local and international entities signed a declaration of commitment to strengthen and develop sustainable tourism in collaboration with the private sector and other actors in the industry. The agreement was signed by the Minister of Tourism, David Collado, and Pololikashvili, President of Asonahores (National Hotel and Tourism Association); David Libre, President of the Third Sector of Tourism; Gabriel Escarrer, CEO of Meliá Hotels International; and Jaime Morillo, representative of Community Tourism.
The forum kicked off with a presentation titled "Tourism for the Sustainable Development Goals" by Zoritsa Urosevic, Executive Director of the United Nations World Tourism Organization (UNWTO). The second presentation focused on the sustainability of Dominican tourism and highlighted the conclusions of the project "Transforming tourism value chains in developing countries and small island states." Lisset Gil, Sustainability Consultant and Director of the TRANSTUR Project delivered the presentation.
The forum holds great importance for the Dominican Republic, as it aligns with the current priorities set by Minister of Tourism David Collado to promote responsible, sustainable, and environmentally friendly tourism in line with the United Nations' Sustainable Development Goals.
During the event held at the Meliá Caribe hotel, Minister Collado emphasized the country's commitment to fostering a more sustainable and environmentally friendly tourism industry that also generates quality jobs. He saw the forum as an opportunity to showcase the Dominican Republic's leadership in the regional tourism sector.