Dominican Exporters announce Golf Cup at La Romana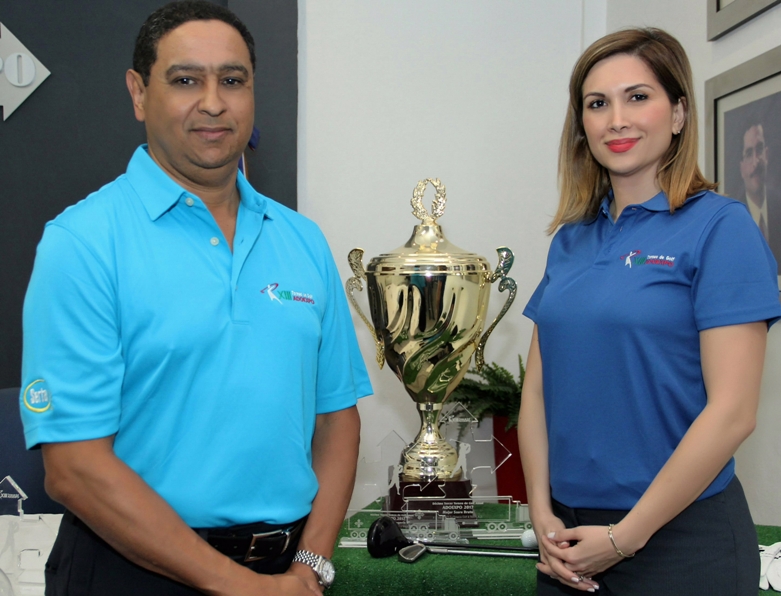 José Mella, Odile Miniño Bogaert
Santo Domingo.- Dominican Exporters Association (ADOEXPO) executive vice president, Odile Miniño Bogaert on Tuesday announced the 8th annual Grand Annual Golf Tournament, which has become a tradition for the leaders of the sector and the sport's professionals.
She said the competition is set to start at 8am Saturday April 8, in the links of La Estancia Golf Resort, in La Romana with more than 100 payers, under the scramble in pairs, in three categories.
Miniño provide the event's details at ADOEXPO headquarters, accompanied by José Miguel Vega, first vice president of the board of that association, and José Mella, director.
The business leader said that in addition to the first three places, special prizes will be awarded for the longest drive and the nearest stroke to the pin.
She said courtesy of ADOEXPO and sponsors the trophies, various raffles and gifts will be handed out the after competition.
Sponsors:
Platinum: Gerdau Metaldom, Industry and Commerce Ministry, Banco Popular Dominicano and Barrick Pueblo Viejo.
Gold: Maprica, Port Authority Dominican Republic and Haina International Terminal (HIT).
Silver: DP World Caucedo, Occupational Risk Administrator, Diesco Group, Banreservas and Falcondo.
Bronze: Travelnet, Pasteurizadora Rica, Seaboard Marine, KPMG, PROINDUSTRIA, Ron Bermúdez, Scotiabank, Cortés Hermanos, Autocare, General Air Services, Radisson Hotels, Dewar's, Hispaniola Port Offices, Ness Parts and Brugal.
The competition also has the support of Alsol Hotels & Resorts, Induban, Barceló, Álvarez y Sánchez, Agua Planeta Azul, INTECO, Hodelpa Hotels, Club Hemingway, and La Aurora and Ron Velero.