Dominican dream-come-true destinations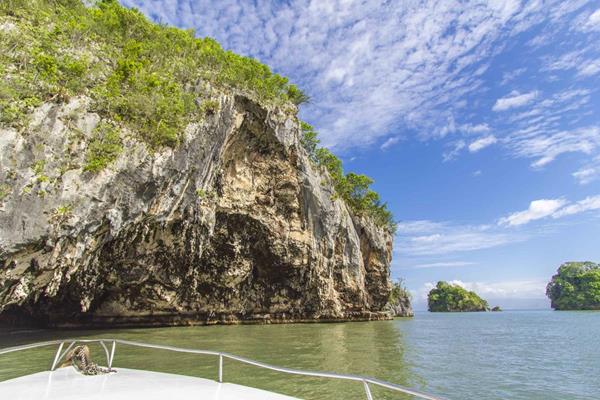 Los Haitises National Park, with the breathtaking mogotes
Santo Domingo.- The beauty of Dominican Republic is a fairytale come to life, complete with white-sand beaches against azure waters, lush green forests and majestic mountaintops. But the country's allure for couples doesn't stop at natural beauty. Dominican Republic offers world-class accommodations and tourist attractions that make it the premier Caribbean destination for romance travel, from engagements and weddings to honeymoons and anniversary celebrations.
"Dominican Republic is a dream come true for couples looking for a fairytale-like engagement, wedding or honeymoon," said Magaly Toribio, Marketing Advisor for the Dominican Republic Ministry of Tourism. "It's easy to fall in love with the country's varied natural beauty, unique charm and endless offerings for couples, from luxurious spa retreats and world-class golf to exhilarating outdoor adventures. There's something here for every type of couple."
Sophisticated Luxury on the Coast
Look no further than Dominican Republic's powder-sand beaches to create a magical setting for your romantic rendezvous. For couples looking to wed in Dominican Republic, Punta Cana's all-inclusive hotels and resorts make wedding planning a breeze, with packages to fit any budget. On-site wedding planners take care of all the details, from menus to centerpieces, so you can relax and soak in every moment of your big day.
A spa visit to Punta Cana and Bávaro's all-inclusive resorts and spa facilities is an ideal way to decompress with your loved one. The East Coast's world-class brands boast some of the best spas in the Caribbean and specialize in some of today's hottest and most luxurious spa services. Whether you receive spa treatments outside or indoors, individually or as a couple, for one hour or an entire day, spa professionals customize each and every treatment to a visitor's needs.
On the southeast coast of Dominican Republic, La Romana is a golfer's dream, featuring breathtaking courses including the Pete Dye-designed Teeth of the Dog course—one of the Caribbean's best, and one of the top 100 courses worldwide. Golf-loving couples will fall in love all over again while cruising together in a cart along the breathtaking greens of Casa de Campo's three designer courses. Other popular activities include riverboat trips along the Rio Chavón for waterfall and wildlife spotting. On land, Altos de Chavón is a must-see old-world village with a number of nearby shopping centers. La Romana offers chic accommodations along the water, and the town is known for attracting A-list celebrity vacationers including J. Lo and Beyoncé. For couples with a taste for luxury, La Romana is a must-visit destination.
Romance Meets History in the Capital
The capital city of Santo Domingo is the largest and most colorful cosmopolitan city in the Caribbean. Whether you're celebrating an engagement, an anniversary or a romantic getaway for any reason at all, the Colonial City is not to be missed. Recognized by UNESCO as a World Heritage Site, the Colonial City is a walkable grid of cobblestone streets and iron street lamps. With roots dating back to the fifteenth century, the Colonial City is home to the oldest cathedral in the Americas, offering a stunning glimpse of historic gothic architecture. Hold hands as you meander through the charming city, sauntering into any of the museums, shops, restaurants or bars that catch your eye.
Elsewhere in Santo Domingo, the lush Botanical Gardens create a floral oasis and a stunning photo opportunity for a snapshot of you and your loved one. Relax and smoke a Dominican cigar at one of the open terrace restaurants in Santo Domingo's Colonial City. You can also explore Gustavo Mejia Ricart Avenue, which is located in the center of Santo Domingo. This popular avenue offers a colorful array of bars, restaurants and fashionable local shops to explore. Prefer to unwind with a day trip to the beach? Head to nearby Juan Dolio, a popular beach among residents of the capital. It's easy for couples staying in Santo Domingo to get the best of both the city and the shore.
Adventure for Two, From Mountains to the Coast
Puerto Plata, located on the north coast, is set against a background of mountain views and miles of coastline. Get engaged in the heavens, or at least pretty close, while taking a suspended cable car 2,565 feet (781 meters) up to the top of Mount Isabel de Torres in Puerto Plata. Among the magnificent views, a statue of Christ the Redeemer can be seen at the peak. The nearby towns of Sosúa and Cabarete are world-famous for windsurfing and kiteboarding—perfect for adrenaline-seeking couples eager to conquer the waves.
In the northeast, the Samaná Peninsula is a dreamy eco-paradise known for magnificent beauty and quiet, unspoiled beaches. The peninsula offers a tranquil retreat for couples eager to explore one of the most natural and undiscovered regions in the Caribbean. Plan a honeymoon or getaway between January and March, and you could even spot humpback whales mating and breeding in Dominican Republic's protected waters. Visit Los Haitises National Park, accessible by boat, to explore 98 square km of mangrove swamp. Within one of the most biodiverse areas of the Caribbean, couples will find themselves surrounded by more than 100 species of birds, 700 vascular plant species, a wide variety of mammals and caves bearing pre-Columbian Taino art. Enjoy the park's magnificent series of limestone caves and boat excursions through the exotic vegetation.
For couples drawn to verdant scenery and rolling hills, Jarabacoa or Constanza offer stunning panoramic mountain views and relatively cool temperatures. At an average elevation of almost 4,000 feet, Constanza is known as the Switzerland of the Caribbean. Surrounded by nature, it is bordered by four large national parks, where eco-conscious couples can plan visits to farms to learn about this agricultural hub of the region. Nearby Jarabacoa is ideal for adventure seekers, offering the best river rafting in the Caribbean, as well as mountain biking, canyoning, paragliding, rappelling and mountain trail horse riding. It is also a popular gateway for excursions to Pico Duarte, the highest peak in the Caribbean. The grueling hike can be completed in two to four days, and the views from the top are well worth the effort for active couples.
To learn more about Dominican Republic's endless offerings for couples and to start planning your romantic escape, visit www.GoDominicanRepublic.com.