The Dominican Republic only dedicates 0.03% of its GDP to innovation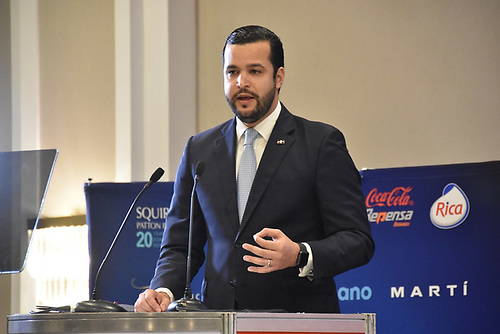 Executive Director of the National Competitiveness Council (CNC) of the country, Rafael Paz
Santo Domingo (EFE).- The Dominican Republic only dedicates 0.03% of its gross domestic product (GDP) to research, when Latin America, "which in itself is lagging behind in the issue, invests slightly more than 1%," On Tuesday, the Executive Director of the National Competitiveness Council (CNC) of the country, Rafael Paz, noted.
When participating in an act of presentation of results of a program oriented to promote innovation, he said that, in this matter, "the challenge of the country is to rely on innovation to become an export economy," for which integration is necessary and support from the private sector.
For his part, the main technical leader of the Division of Competitiveness, Technology, and Innovation of the Inter-American Development Bank (IDB), José Miguel Benavente, stressed that "science and technology are not hobbies of rich countries. It is more, that they are part of the explanation of why those countries are rich."
He explained that Latin America has identified a low private participation in R & D (Research and Development) and few people working in the generation of knowledge, according to a statement from the Ministry of Industry, Trade and SMEs (MICM).
He also indicated that the orange economy presents multiple opportunities to overcome this low investment, with productive activities based on intellectual property rights, and with the challenge of structuring the demand to develop social innovation projects.
On the occasion of the celebration of the International Day of Innovation and Creativity on April 21, the (MICM and the United Nations Development Program (UNDP) presented on Tuesday the advances of the Innóvate Program, which began in mid-2018.
The MICM head, Nelson Toca Simó, explained that this portfolio executes the Program for the Strengthening of the Innovation Management Process in MSMEs (Innóvate), mainly in MSMEs in the cosmetic, agroindustrial and tourism sectors, considered traditional but with a high potential for developing.
The official listed a series of initiatives that complement existing ones, such as the creation of a National Fund for Business Innovation, which will finance the four natures of innovation: in marketing, in processes, in product and in management.
It is also planned to start a product prototyping center in conjunction with the Institute of Innovation in Biotechnology (IIBI); in addition, a technology transfer center to improve production processes and open innovation, in conjunction with the National Intellectual Property Office (Onapi), and under the open innovation approach, to find solutions to problems of a value chain.
For its part, the deputy minister of Mipymes Development, Ignacio Méndez, presented 20 success stories of the project and highlighted that in the first stage of the Innóvate project, 45 MSMEs from the agroindustry and cosmetics sector were assisted, and 284 products were improved. EFE