Berklee College of Music highlights the Fundacion AES Dominicana's support for music students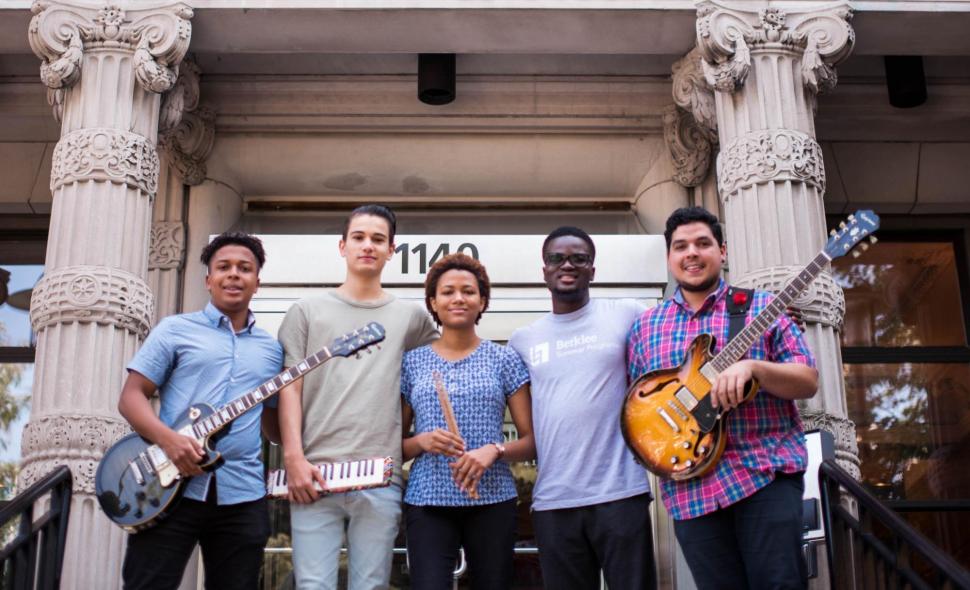 The students Jose Reuel Diaz, Santiago Cuadra, Génesis Pérez, Esli Durano Jr and Jorge Amaury Cabral ..
Boston.- The Fundación AES Dominicana, a social responsibility entity of the AES Dominicana group, has been supporting the development of national culture and art through the donation of scholarships so that Dominican music students can attend the renowned Berklee College of Music.
Since 2016, Fundación AES has rewarded the effort of 30 young musicians from the National Conservatory of Music, granting them scholarships to complete their technical training in summer studies offered by Berklee College of Music.
Recently Berklee rendered a report on this alliance which was uploaded to his website where he collects testimonials from these students. "Sometimes I feel that people like us who are talented and hardworking just need that little push to get what we want. Two or three years ago, getting to Berklee seemed pretty impossible, but here I am," said Jorge Amaury Cabral, guitarist, highlights the note of the house of studies.
Berklee reports that among the cases of benefited students are musicians Cabral, Génesis Pérez, Santiago Cuadra, José Reuel Díaz Vizcaino and Esli Durano Jr. Honoré, who demonstrated their ability to attend the Aspire: Five-Week Music Performance Intensive (Five-Week), one of the most preeminent programs worldwide in vocal and instrument performance studies, offered by the university.
In addition to the summer courses, on this occasion, as every year, several of the young people sponsored by AES have been selected to opt for scholarships that cover 100% and 75% of the tuition fees for their university studies in Berklee. This time, Génesis Pérez, Amaury Cabral, Jhon Martez and Esli Durano were awarded.
The Foundacion AES Dominicana has provided these scholarships in order to boost and project the talent of Dominican musicians who lack opportunities to enrich their knowledge and experiences in the artistic world and thereby boost the cultural development of Dominican society.