Río Yaque Recovery, masterpiece of the Santiago 2030 Development Plan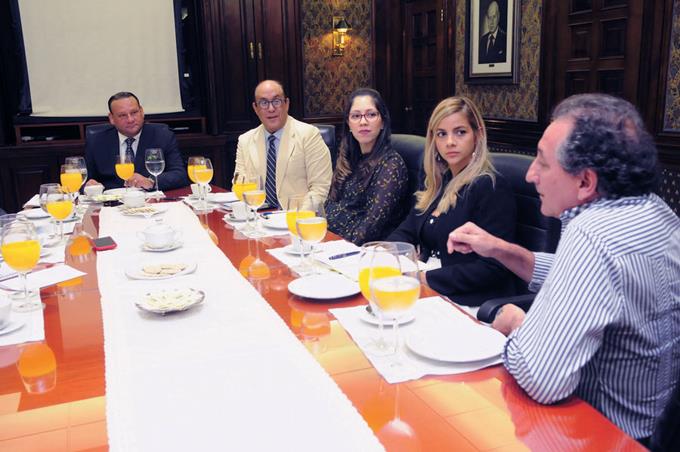 In the center, Juan Carlos Ortiz, Reynaldo Peguero, Mirtha Saleta, Laura Partal and Julio Corral. JORGE CRUZ / DAILY LISTIN
The Santiago Development Council (CDES) has major projects for the integral and functional development of this province, being the recovery of the Yaque River one of the most ambitious.  
During the Daily Listin Breakfast, the CDES leaders highlighted the importance of this river for the entire North Region and for the country as a water resource.
They explained that within the 2030 Agenda for the Development of Santiago, the urban environmental recovery of the Yaque, the treatment of 100% of wastewater and the saving of more than 60% of drinking water that is lost due to irresponsible use are contemplated.
The CDES considered the Yaque del Norte as the main hydrographic asset for the economy and production of the city of Santiago and the provinces of the Northwest Line of the Dominican Republic, so its recovery is necessary.
They indicated that in addition to the fact that President Danilo Medina issued decree 57-18 for the entire Yaque del Norte basin, he also created a presidential commission for this hydrological resource and has allocated funds in the order of RD $ 664 million.
Recovery impact
The Yaque Environmental Urban Recovery project is also sponsored by the Inter-American Development Bank (IDB), would positively impact its most critical part.
According to the documents provided by the CDES, this initiative will optimize the management of this hydrographic course over 10 kilometers through which the city of Santiago crosses.
According to studies conducted by the Santiago Development Council (CDES), for the Santiago Strategic Plan by 2030, the Mayor's Office of Santiago, CORAASAN and the IDB, the project needs an investment of around US $ 65 million.
 "To this amount are added the more than RD $ 500 million that the Government is investing in the collection system of the Pontezuela area in Villa María, which will allow the amount of wastewater collected to be raised from 60 to 90%, which would be treated with Efficiency in the Rafey wastewater treatment plant. and the RD $ 664 million contributed by the Presidency would be added," says the document.
Components
The project includes three components: first, the environmental improvement of the urban Yaque environment; second, comprehensive risk mitigation to build containment dam and third, a comprehensive urban transformation.
LEARN MORE 
Project Action Plan
The construction of containment dikes in Bella Vista and Rafey, the construction of a new storm sewer system in the central polygon of Santiago, the recovery and remodeling of the habitat in Hard Ground and the critical poverty zone of the Cambronal is foreseen. Also the qualification of parks, green areas, walkways and viewpoints to the Yaque, improvement, and relocation of homes.