NY Supermarket Association swears in its new board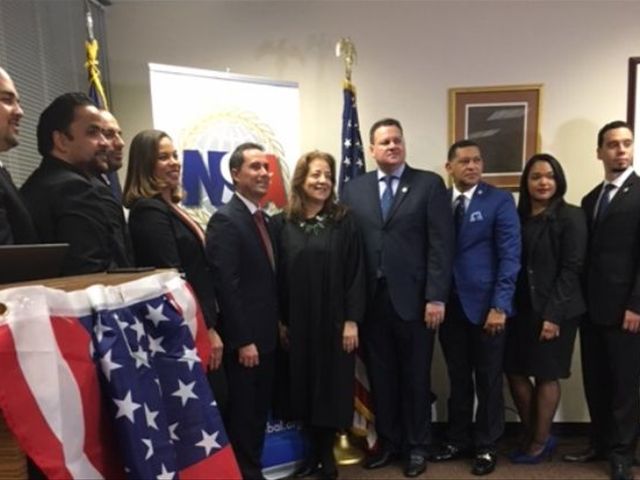 New York.- The New York National Supermarket Association (NSA) on Tuesday inaugurated its new board of directors, where for the second time Rodolfo "Ruddy" Fuertes takes office as president for the 2017-2019 period.
New York State Supreme Court justice Diccia Pineda Kirwan administered the oath to the members in a ceremony at NSA offices, attended by business leaders, associates and special guests.
Also sworn in were vice-president Jose Luis Almonte; general secretary Jenny Jorge; treasurer Pedro Goico, and as members Iván Bueno, Samuel Collado, Nallely de Jesus, Danny Díaz, Dionicio Liz Jr., Anthony Peña and Frank Felix Zapata, who pledged adherence to the NSA's vision and compliance with its bylaws.
In his keynote speech, Fuertes rendered a detailed report of his tenure since 2015, and the initiatives and projects carried out during the period, stressing the NSA Trade Fair among its most important achievements, showcasing more than 200 companies which sold their products while having the chance to interact with supermarket owners.
Collaboration
"The NSA Scholarship Foundation has distributed more than (US)$1million in educational grants in New York and over $100,000 in Florida. We're proud to be able to help these students achieve their academic and professional goals," the business leader said, quoted y listin.com.do.
"We have always maintained that it's a meeting point in the construction of solutions for issues vital to society, with the support of our sponsors," Fuertes said to point out the NSA's 28-year track record.
Dominican and Hispanic entrepreneurs founded the NSA as a trade association in 1989 to represent the interests of independent supermarket owners in New York and other cities along the Eastern Seaboard and Florida.