CELAC Summit: 14 heads of state confirm presence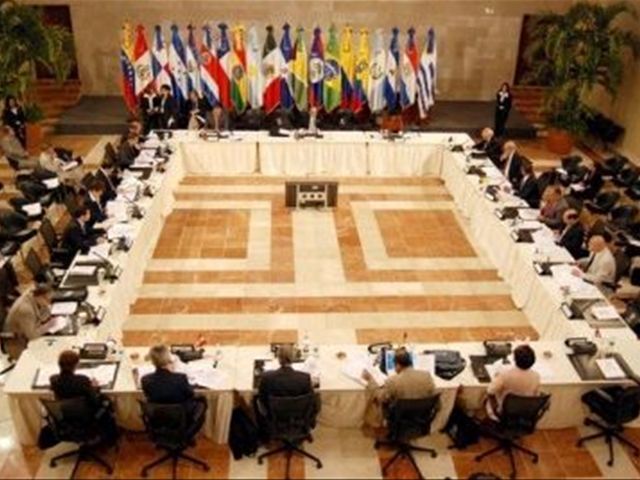 Santo Domingo.- The Foreign Ministry onSunday said 14 heads of state and government who will come to the country Tuesdayfor the Fifth Summit of the Community of Latin American and Caribbean States(CELAC) to discuss food security, immigration and the global drugs problem, amongother issues.
The CELAC countries national coordinators haveheld meetings in Bavaro, Punta Cana (east) since Saturday, analyzing thedocuments they'll present to the leaders during the conclave.
"Representatives of the 33 CELAC membercountries will discuss the US blockade against Cuba, regional integration,economic, social and cultural policy; Migration and development; And technicalcooperation among other issues, of which a conclusion will be presented onWednesday," the Foreign Ministry said in a statement.
Also nuclear disarmament, the return ofGuantánamo to Cuba, the Las Malvinas (Falkland's) conflict, indigenouslanguages, sustainable health systems and the agenda 20-30.
Presidents
Confirmed attendance" RaulCastro of Cuba; Nicolás Maduro, Venezuela; Enrique Peña Nieto, Mexico; JuanManuel Santos, Colombia; Evo Morales, Bolivia;Michelle Bachelet, Chile and Daniel Ortega, Nicaragua.
Also Jocelerme Privert, Haiti;Charles A. Savarin; Dominica; Salvador Sánchez, El Salvador; Juan Carlos Varela,Panama; Rafael Correa, Ecuador and David Granger of Guyana.
Ther'll also be nine regional integrationmechanisms and four extra-regional partners, as well as delegations of viceministers from Peru, Bahamas, Brazil and Saint Lucia.
Revolving Presidency
On Wednesday president Danilo Medina will handover CELAC's one-year revolving presidency to El Salvador leader Salvador SánchezCerén.