AES Dominican Republic ready to supply natural gas to Caribbean, Central America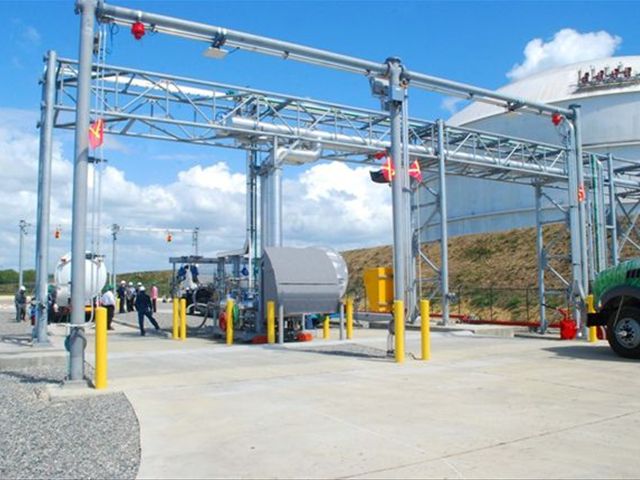 Santo Domingo.- 27/01/2017- The AESDominicana Liquefied Natural Gas reception terminal, located in the AES Andresenergy complex, has completed the modifications to allow for re-loading andre-exportation of LNG to neighboring Caribbean islands and Central Americancountries, which can now benefit from the environmental and economic advantagesof natural gas.
The information was provided by GeorgeNemeth, Director of LNG Business Development at AES Mexico, Central America andthe Caribbean (MCAC) during the 17th Annual Conference on Energy in theCaribbean organized by the Platts international institute, held in theDominican Republic from January 26 to 27.
According to Nemeth, nine million dollarswere invested in the project to build the new installations of the "AESAndres Marine Facility," which consisted in adapting the existing LNGReception Terminal to be a port of entry and exit for ships as small as 10,000cubic meters, which can be filled directly from the existing LNG receivingterminal jetty. For smaller customers,AES will load LNG into ISO tanks at the Liquefied Natural Gas Truck Terminal sothat LNG can be delivered via container vessels to neighboring countries. AES has recently begun exporting LNG to theCaribbean via ISO containers.
Innovative project
"This is a highly innovative projectthat counts on all the guarantees of safety and reliability in addition to theexperience that all our professionals have in AES Dominicana that for more than13 years have successfully operated the LNG terminal and during seven years theterminal to fill trucks," affirms Edwin De los Santos, president of AESDominicana.
With this project, which concluded at yearend2016 – De los Santos says – Dominican Republic takes advantage of its excellentgeographical location and becomes the first hub of Central America and theCaribbean for the import and export of natural gas, which translates intoadvantages of being an environmentally-friendly non-renewable energy, it'sclean because it doesn't spew ash when ignited, it's non-toxic and produceslower emissions than the traditional naphtha and diesel.
2017 and a vision of clean energy andinnovation.
The commissioning of the AES Andres MarineFacility is one of the projects AES Dominicana has in its portfolio and joinsthe large-scale battery energy storage array system at AES Andres, Itabo andDPP, first and only in the Dominican Republic and the Central American andCaribbean region, which consists of installing around 30MW to contribute to thestability of the interconnected electrical system (SENI) and continue with theinjection of more efficient energy into the system. The DPP combined cycle willalso start operations, which will inject an additional 114 megawatts of cleanenergy.
As to renewable energy, AES will add anaverage of 3.5 MW, through two solar projects in AES Andres and Itabo and twoprojects of micro hydraulic turbines, to maximize the injection of clean energyinto the SENI.