No reason to get spooked over dollars, business leader says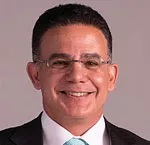 Santo Domingo.- National Business Council (Conep) president Pedro Brache on Thursday said prior to the Central Bank's injection of dollars last week to meet the demand, the market was behaving normally and the companies had no trouble buying the greenbacks.
"The BC injection was actually a vaccine, because since before that, the market was developing normally starting this month. I don't see a problem with the dollar, companies are operating normally, when one goes to buy dollars they find them," Brache said.
He said the meeting held at the Central Bank with business leaders  was to see what was the hysteria with the currency, because, in his view, there was no reason to talk about shortages.
Brache said it was explained at the meeting the amount of dollars the economy receives and the amount it buys, so it was observed that there is enough currency in the country "I think there was no reason to say that there was shortage, that is, in my opinion there's not."
He said he prefers to adopt a new method for dollar transactions, because "that will allow a reconciliation of the demand with the supply of a more effective way."
Brach spoke prior to participating in the international conference "Challenges and challenges of dual training from the perspectives of professional and business training," at the National Professional Technical Training Institute (Infotep).