GoldQuest confirms two new gold systems in Dominican SW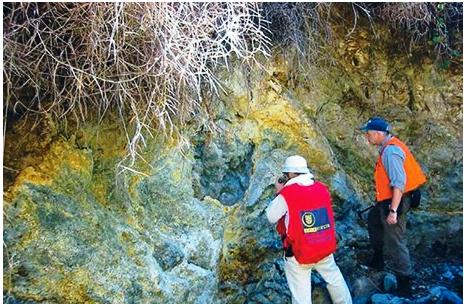 GoldQwest at Hndo Valle. SW
Vancouver, BC (Marketwired via COMTEX)  (Marketwired).- GoldQuest Mining Corp. (GQC) (frankfurt:M1W) (berlin:M1W) ("GoldQuest" or the "Company") is pleased to report assay results from the latest 8-hole batch of drill holes of its ongoing minimum 10,000 metre drill program.
The program is focused on identifying new gold systems within its 100% owned Tireo Concessions in the Dominican Republic. The results are from a 15 kilometre section of the Tireo Belt with no previous drilling.
This portion of the trend is south of the Romero Deposit (sothwest) and the holes reported are from two groups of targets. The target areas are called Vaca Valley and Mineros Ridge, which are located 5 kilometres and 10 kilometres north of the Cachimbo Discovery respectively. In both cases, gold bearing sulphides were intersected with similar grades and thicknesses to intersections adjacent to the Romero Deposit and the Cachimbo Discovery.
Highlights of the new drilling include hole TIR-17-16 at Mineros Ridge which intersected 15 metres grading 0.4 g/t gold and 25.4 g/t silver. Hole TIR-16-12 at Vaca Valley intersected 56.8 metres grading 0.3 g/t gold (see table below for full results). The drill program is testing new targets and all holes have encountered sulphide mineralization consistent with hydrothermal activity in the belt. Three of the holes intersected gold-bearing sulphide mineralization.
Wide intersections of anomalous gold-in-pyrite have been encountered on the edge of the Romero Deposits and all of discoveries in the belt and may be indicative of proximity to higher grade mineralization. In particular, results from hole TIR-17-16 show higher silver values and similar gold to silver ratios as intersected at the Cachimbo Discovery.
"Finding new gold bearing hydrothermal systems is the objective of this first pass drilling program. Subsequent follow up drilling programs will vector toward potentially higher grade mineralization of such systems," commented Bill Fisher, GoldQuest's Executive Chairman. "Finding sulphides coinciding with anomalous gold and other metals, we are optimistic as to the potential of the district as VMS mineralization often occurs in clusters.
With the recent (US)$23 million investment by Agnico Eagle, and with the Romero mining project in full permitting mode to complement our ongoing exploration programs, GoldQuest is well-funded and positioned to be one of the most active mineral exploration and development companies of 2017."
The 2016/17 drilling program was designed to test for previously unrecognized gold bearing hydrothermal systems in undrilled targets. Drilling at all targets to date has encountered hydrothermal systems, with the most notable discovery being hole TIR-16-09 at Cachimbo where a Volcanogenic Massive Sulphide (VMS) was discovered that returned a 4.9 metre interval grading 14 g/t gold, 74 g/t silver, 12 % zinc, 1% copper and 0.7% lead within a wider horizon of 15 metres grading 5 g/t gold, 31 g/t silver, 4 % zinc, 0.4% copper and 0.3% lead from 70 metre depth (See release of 10th January 2017).
The 2017 Cachimbo Discovery (as well as Romero) was found using geophysics and nearby surface sampling and drilling data, where high grade mineralization was found within a larger, anomalous, lower gold grade halo, similar to the current drill holes TIR-16-10, TIR-16-12 and TIR-17-16.
Full report: http://www.marketwatch.com/story/goldquest-confirms-two-new-gold-systems-in-the-tireo-belt-dominican-republic-2017-03-30-61603022