Coffee growers face their 'worst' crisis; slam Agro chief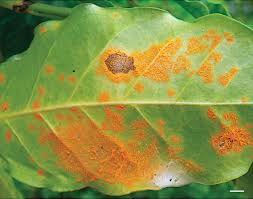 Coffee rust
Santo Domingo.- Dominican Republic's coffee growers grouped in Concafed on Tuesday said the sector has plunged into its worst crisis ever, as rust damages their plantations and denounced a lack of government aid.
Organization spokesman Carlos Ramírez said the country's 30,000 coffee growers have lost out on around RD$18.0 billion (US$383.0 million) in earnings in the last four years.
He said the Dominican Republic has become a net importer, "importing tens of millions of dollars in coffee every year to be able to supply the domestic demand for this product."
He said national production fell to just over 1,000 short tons per year in the last three years, "representing only a fraction of the domestic coffee consumption."
He accused Agriculture minister Angel Estévez of being the main culprit for the abandoned coffee plantations across the country.
To mark National Coffee Day, Ramirez added that those plantations help protect the environment.