Sectors huddle as 20% minimum wage hike faces challenge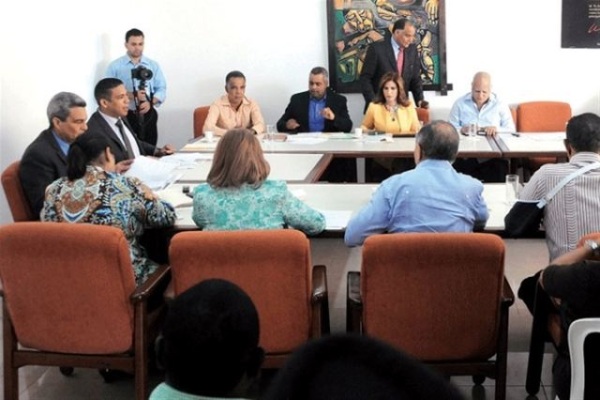 A previous Salary Committee meeting.
Santo Domingo.- Labor minister José Ramón Fadul is meeting Tuesday behind closed doors at the Labor Ministry with management and labor representatives, just days after employers vowed to challenge the 20% increase on workers' minimum wage.
Only photojournalists were allowed to take images of the meeting attended by Dominican Republic Industries Association (AIRD) vice president Circe Almánzar; and labor union leaders Gabriel Del Río and Jacobo Ramos.
According to the resolution approved by the Labor Ministry's National Salaries Committed, the minimum wage will be RD$15,447.60 for companies with earnings of more than RD$4.0 million; RD $10,620 for those with RD$2.0 to RD$4.0 million, and RD$9,411.60 for companies whose profits are up to RD$2.0 million.
Private security guards will receive RD$13,032.00 and farm workers will get a daily wage of RD$320.40, when Resolution No. 05/2017 takes effect.