Biggest bank's assets jump 8.9% to US$8.1B in 2016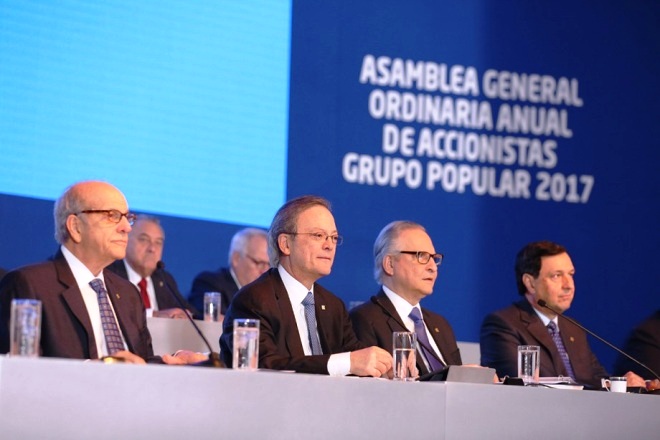 Manuel Grullon third from right.
Santo Domingo.-  The president of the country's biggest bank on   Saturday announced that its total assets topped RD$387.0 billion (US$8.1 billion) in 2016, or 8.9% higher than in 2015.
Grupo Popular CEO Manuel A. Grullón said the bank's net loan portfolio reached RD$248.2 billion for a relative growth of 8.3%.
"At the end of 2016, total consolidated deposits amounted to RD$302.0 billion, for a relative growth of 5.1%, compared to fiscal year 2015, Popular said in a statement.
"Equity funds that support the operations of the Popular Group and its subsidiaries closed last year with a balance of RD$51.2 billion, which grew by RD$8.4 billion in 2016," Grullon said during the bank shareholders' assembly.
He added that the activities carried out by Grupo Popular's local and international subsidiaries allowed the parent company to post consolidated gross profit of RD$9.8 billion.