New York's 800,000+ Dominicans cringe from Obamacare repeal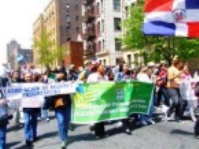 New York .- The estimated more than 800,000Dominicans living in the city fear that Congress' passing of the new health law in the US Thursday will make care less affordable to millions of citizens.
"We don't know what to do if they take away the health insurance we have," said residents in Manhattan, the Bronx, Brooklyn, Queens and Yonkers quoted by eldia.com.do.
Around 2.7 million people would be left out of affordable health care n New York State alone, including 1.6 million city residents, and heavy cuts would force them to raise taxes or cut coverage to millions of New Yorkers, said NY governor Andrew Cuomo.
Cuts in Medicaid funds could reach US$2.3 billion, which coupled with US$4.7 billion in spending that the new law would entail for the state budget, would raise the total cost for NY to US$6.9 billion over the next four years, which would "paralyze hospitals, nursing homes and assisted living facilities throughout the state," Cuomo added.
Now insurers, through a federal exemption, could no longer offer users the minimum benefits currently required, including outpatient, emergency, maternity, pediatric, mental health, prescriptions and rehabilitation treatments, among others.
Moreover, 8.4 million people under 65 with pre-existing conditions could see increases in their premiums and lose their coverage; 7 million depend on Medicaid and other programs created under Obamacare would be unprotected in the state of NY.