Pork, poultry producers cry foul on free trade, fear going broke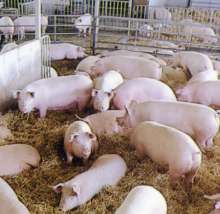 Santo Domingo.- Representatives of Dominican Republic's and pork and poultry producers on Wed. complained of lack of regulation in their sectors, and of sanitary and trade hurdles with Haiti.
They also complain that compliance with stipulations in the Central America-US Free Trade Agreement (DR-CAFTA) has failed.
Speaking during the Corripio Media Group weekly luncheon, the business leaders stressed that both sectors, to boost exports need protection from imports, on standard labeling, and to avert losses due to a lack of vaccines to eradicate pests such as swine flu and "Newcastle" in chickens,   .
"We invest some RD$24 million annually just to fight swine flu," they said, warning that "we fear going bankrupt" if action in those areas isn't taken.
Dominican Pork Producers Federation president Israel Brito said they produce 80 percent of the country's pork consumption, wheras the remaining 20 percent are imports. "This causes serious difficulties, and on failure to revise DR -CAFTA, thousands of producers will go bankrupt."
Fear bankruptcy
"In October we made a presentation to the commission that has to do with the DR-CAFTA, we know that it's not so easy, because it's a matter of nations, not bilateral, but nobody is obliged to commit suicide; There are 34,000 families that live off the pork sector and this threatens our existence," Brito said.