Central Bank releases US$425.0M of bank reserve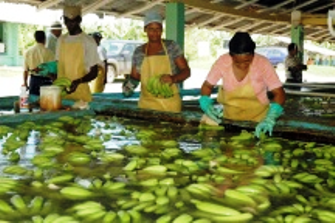 Export blantains
Santo Domingo.- Dominican Republic's Central Bank on Thur. announced a roll back of 2.2 percentage points to release RD$ 20.4 billion (US$425.0 million) of bank reserve, aimed at productive, export, agricultural, commercial, housing, SME and consumer sectors , among others.
The Central Bank said the measure which takes effect August 1 was adopted during the meeting of the Monetary Board on Thursday. "It will contribute to boost the economy, through the increase of bank credit, allowing the private sector to increase investment, which will increase local production and for export, stimulating the generation of productive jobs and therefore the consumption."
Added to the amount is RD$2.1 billion to be disbursed by the agro sector, corresponding to the release of funds authorized last December, and another RD$1.1 billion of resources released in previous measures.
Of the three items, the available funds total RD$23.5 billion.
"The money will be placed at an interest of up to 8% per year and in terms, depending on the type of loan. For loans for the acquisition of new housing, given the longer term, the rate will be up to 9% per year," the Central Bank said in an emailed statement.