38,000 foreigners deported so far this year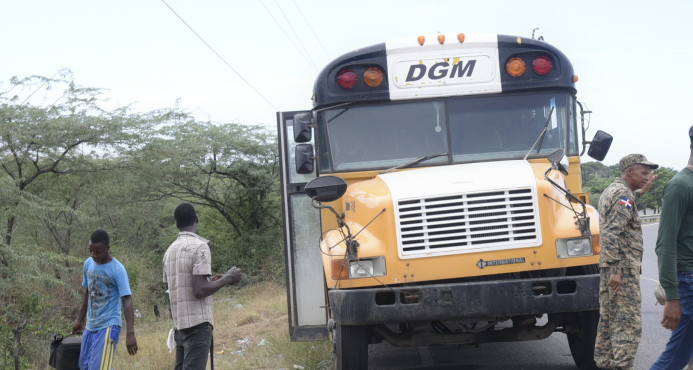 Repatriation in process (image from diariolibre.com)
Santo Domingo.- The Migration Department (DGM) says that 13,446 foreign nationals with irregular migratory status in the Dominican Republic were deported to their countries of origin during the month of July.
According to a press release, 6,545 of this total were refused admission when attempting to enter the country, according to a statistical report from the DGM, which also reports the deportation of 6,901 foreigners.
The foreign nationals were detained during several migration raids across the country over the past few weeks, on the orders of DGM General Director Lieutenant General (retired) Máximo William Muñoz Delgado.
The repatriations took place in coordination with their embassies, including Colombia, Cuba, France, Haiti, Peru, Venezuela and Russia.
This significant increase in operations, deportations and non-admissions during the month of July brings the total number of repatriations carried out during 2017 so far to 38,426.
The DGM states that 13,664 people were deported by air and across the land border between August and December 2016, bringing the total number of foreigners deported during the current administration to 52,090.
The institution also reports an increase in migratory movement through national airports in July, with 653,327 arrivals and 667, 347 departures. Most passengers enter and leave via Punta Cana International Airport, followed by Las Américas (Santo Domingo), Cibao (Santiago), Puerto Plata, La Romana, El Catey (Samaná), Joaquín Balaguer (La Isabela) and Barahona international airports.
Overland cross-border traffic, according to the DGM, registered 21, 403 arrivals and 18,447 departures, mainly through the southwestern crossing point in Jimaní.
A total of 60,504 people arrived by sea and 60,292 departed, mainly through the tourist ports of La Romana and Maimón in Puerto Plata, which are popular with cruise ships.
During the month of July, 166 Dominicans were repatriated after serving their sentences overseas.
The DGM reiterated its strong commitment to maintaining control foreigners entering and departing Dominican territory, as part of the country's development.