Energy and Mines Minister seeks support for clean energy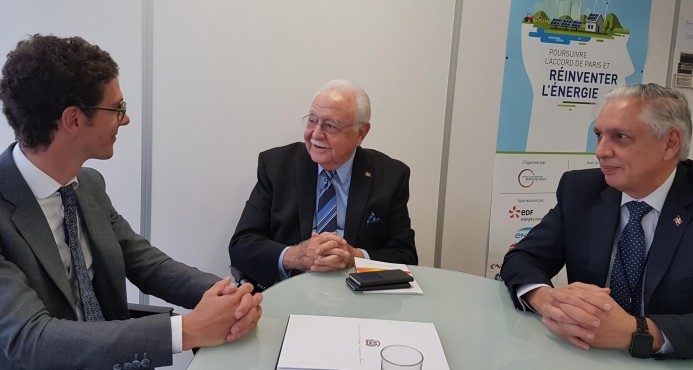 Alexandre Roesch, Antonio Isa Conde and Ernesto Vilalta (image from hoy.com.do)
Paris.- During a meeting in the French capital, Minister of Energy and Mines Antonio Isa Conde proposed cooperation between the Renewable Energy Syndicate (SER) in France and the Dominican state for promoting the development of renewable energy in the Dominican Republic.
In a communiqué from the ministry, Isa Conde said that the conclusion of the Electricity Pact marks a new phase in the history of the sector and opens the way for the transition that the country must undergo.
The minister added that he plans to promote foreign investment in renewable energy generation projects, with the aim of diversifying the power generation grid in the Dominican Republic while contributing to the climate change reduction targets adopted as part of the United Nations Framework Convention on Climate Change.
The French organization's general delegate Alexandre Roesch spoke of the great interest in the Dominican Republic shown by many members of the syndicate and reiterated his organization's willingness to work with the Ministry of Energy and Mines to promote the opportunities that the Dominican Republic has to offer in this sector.
En route to an official visit to Astana, Kazakhstan, where he will attend the 2017 World Expo – Future Energy, minister Isa Conde used his stopover in Paris to boost French cooperation and investment in the Dominican Republic accompanied by deputy minister for energy, Ernesto Vilalta.