Dominican Republic's icon river languishes but hope is not lost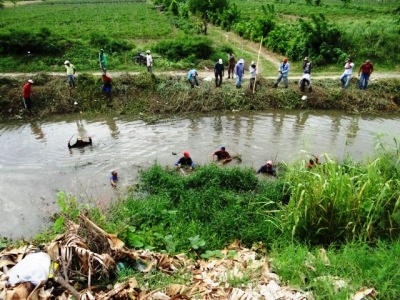 Yaque north Canal, cleanup by a crew of volunteers.
Santiago.- The Yaque del Norte River, the country's longest and a source of hydro-electric power, drinking water and which irrigates thousands of hectares of farmlands in the Northwest and Central Cibao region, languishes from deforestation, pollution and the extraction of sand and gravel.
Ecologists, officials and institutions that protect the environment and natural resources have expressed concerned over the Yaque's degradation, most notable after its pass through Santiago, where  it seems to shrink to a brook surrounded by grasslands and weeds.
A group of public and private institutions recently decided to join forces to rescue the Yaque, whose 300 kilometer-long course starting at the Cordillera Central's 2,580 meter-high La Rusilla peak, until Montecristi makes it the Caribbean's most extensive water source.
Pollutants including solid waste, domestic and industrial wastewater and deforestation have become the most daunting threat to the Yaque's survival. The situation worsens after it passes through Santiago, the country's second biggest city home to 1.2 million people.
Now the river is finding sponsors, who are making great efforts to save it.
Studies however found that as its passes through Santiago, the Yaque receives the polluted waters from small rivers, streams and canyons as human settlements crowd its banks, including Nibaje, Gurabo, Pontezuela, Arroyo Hondo, Pastor, Arenquillo.
Main tributaries
The Jimenoa, Bao, Guanajuma, Jagua, Inoa, Mao, Maguaca, Maguá, Pananao, Jicomé and Guayubín rivers are the Yaque's main tributaries, which drive the Tavera and Moncion hydroelectric dams.