Despite scolding, GoldQuest upbeat on permit for western mine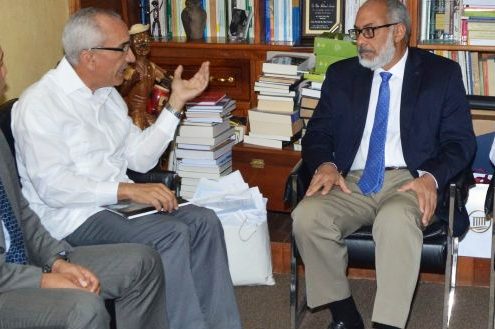 Julio Espaillat, Persio Maldonado. Photo elnuevodiariolcom.do
Santo Domingo.-  The miner GoldQuest on Tue. said it's confident that the Energy and Mines Ministry will issue the extraction permit for the Romero mining project, in western San Juan province.
The miner's upbeat stance comes just days after Energy and Mines minister Antonio Isa Conde warned that he "won't be rushed" to issue the extraction permit.
Julio Espaillat, CEO of the Canadian company, said the project won't affect the surface, the forests or surrounding areas, since neither cyanide nor other contaminants will be used, and efficient water recirculation and collected rainwater will be used in the project instead.
He said the water of the San Juan River won't be touched.
In a visit to El Nuevo Diario editor-in-chief, Persio Maldonado and newsroom director Luis Brito, the executive said the company is committed to implementing sustainable environmental practices.
He said GoldQuest, "will actively participate in the sustainable economic development of the area," and reiterated its commitment to the safety and health of employees and communities. "We will operate transparently and hand-in-hand with the Central Government and the local governments of the province."