AES Dominicana unveils hi-tech 20MW energy storage system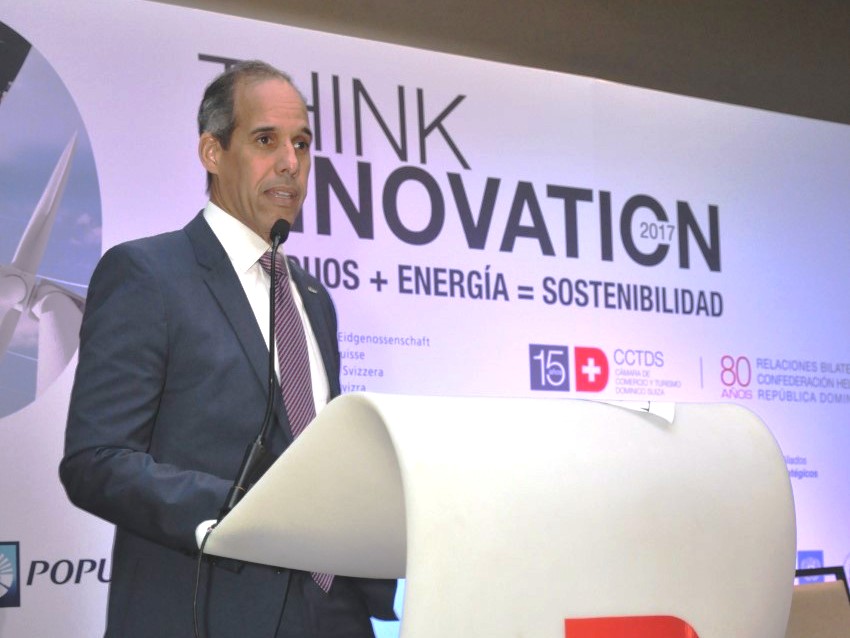 Santo Domingo.- The president of AES Dominicana, Edwin De Los Santos, on Thurs. announced the commissioning of 20 megawatts of energy storage through power plants AES Andres and Dominican Power Partners, thanks to the innovative and revolutionary system developed by the AES Corporation, aimed at providing the frequency regulation service to the National Interconnected Electricity System (SENI).
During his presentation titled "AES Dominicana History of Success" at the Think Innovation International Conference, hosted by the Dominican-Swiss Chamber of Commerce on Thursday in a hotel in Santo Domingo, De Los Santos, expressed the Energy storage system's versatility, which based on lithium-ion batteries and a sophisticated electronic control and artificial intelligence system, is capable of storing and releasing energy and power at the time and manner which the SENI requires.
"This innovative energy solution has become a technological imperative worldwide because it offers proven advantages in traditional energy systems, for the provision of ancillary services that were normally provided by conventional units in very limited ranges, and also because Is able to absorb efficiently the variations that have renewable energies like wind and solar," the executive said in an emailed statement.
In the same space, Edwin De Los Santos explained that when there are renewable units such as wind, solar and hydroelectric plants in the operation of an electrical system, the application of the energy storage system provides greater stability, since wind and solar technologies produce a fixed amount of energy as long as wind, sun or water resources are available without the possibility of diminishing or increasing.
"The energy storage system however is capable of storing energy in hours of surplus renewables and releasing in periods that are needed, or in any case the energy storage system is kept instantly supplying the variations that these renewable technologies do not San able to balance," he said, adding that they can be kept available for as long as six hours in the case of emergencies in sensitive consumptions as in hospitals, industries that cannot halt their production.