Figures reveal a DR-Haiti lopsided free trade pact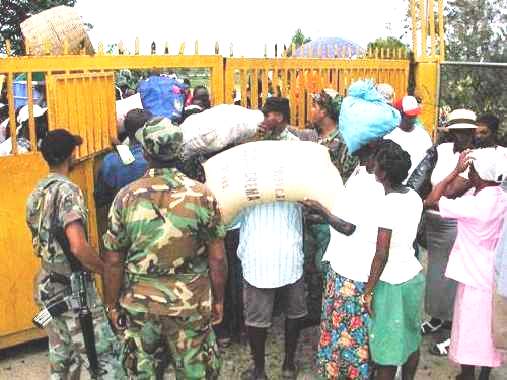 Primitive trade at the border
Santo Domingo.- Opinion makers have for years agreed that Dominican Republic and Haiti should forge a Free Trade Agreement (FTA), also welcomed by business leaders, government officials, economists and local poultry producers, who say it will contribute to formalize cross-island trade.
On the Dominican side the numbers seem to justify that step.
Nonetheless, given the sharp trade imbalance and Haiti's dependence Customs revenue, it seems unlikely that that country would embark on such an agreement.
From 2010 to 2017, Dominican Republic-Haiti trade topped US$7.7 billion, according to the Dominican Republic Export and Investment Center (CEI-RD). Of that figure, Dominican exports took the lion's share of US$7.6 billion, compared with Haiti's US$158.4 million, or just 2%.
Several years ago, the National Business Council, the Young Entrepreneurs Association, the Industry and Commerce Ministry and the Northern Poultry Producers Association, among others, agreed that bilateral negotiations would yield positive results, but made it clear that a thorough study was required.
Some experts suggest that given Haiti's importance for trade with Dominican Republic, it's vital to secure and formalize it, especially since the geography allows a land-served market, but warned: "It's unlikely that Haiti will fall on that to sign an FTA.
Moreover any DR-Haiti agreement must take into account the positions set out in the pact with the European Economic Community and CARICOM with respect to Haiti, as aspects that go beyond trade have to be considered.
European Union countries have always associated Haiti's economic destiny with Dominican Republic's, and sometimes demand that the later do more for the former.