Government trims 2017 growth target again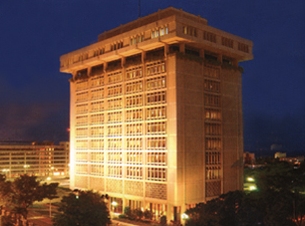 Central Bank
Santo Domingo.- for the second time this year the Dominican government revised its growth target for 2017, trimming it from 5.25% to 4.75%, according to the Economy Ministry's latest Macroeconomic Outlook report.
As recent as June, the Economy Ministry, in conjunction with the Finance Ministry of and the Central Bank had cut this year's projected GDP growth from the initial 5.5% to 5.25%.
The pace of growth of the Dominican economy sustained a sharp slowdown for the first half, standing at 4%.
To jumpstart the economy, the Central Bank in July released part of the bank reserve of RD$20.4 billion, of which up to August, RD$5.0 billion had already been allocated to loans.
Moreover Presidency minister José Ramón Peralta announced a fast track allocation of RD$20.0 billion for public housing and infrastructure, given their capacity to boost the economy.