Dominican Republic-China ties? Taiwan voices dire warning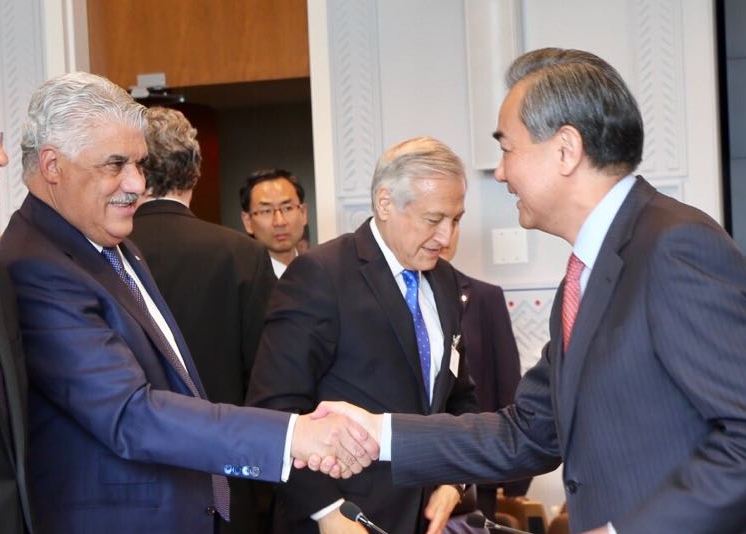 M. Vargas, Tawei Lee
New York.- Taiwan Foreign minister David Tawei Lee, on Fri. defended his country's diplomatic ties with the Dominican Republic, and warned of what could occur if Santo Domingo establishes relations with Beijing.
"I want to clarify that Taiwan does not want anything from the Dominican Republic, if it does accept China, and if it accepts it, it will accept thousands and thousands of illegal immigrants; then think, friends present, in the results," the diplomat told the Corripio media group during first visit to the country on July 24.
Tawei said in recent days he has heard that to attract and establish diplomatic relations with the Dominican Republic, China has offered "very high figure" projects. "Frankly, it's a very unrealistic dream, promises without solid fundamentals, like a check without funds."
He said once diplomatic relations were to be established with Mainland China, the country would be one of its 175 "allies."
The diplomat noted however that Taiwan values ​​its relations with each one of Taipei's 20 diplomatic allies. He said they'll continue the sincerity with its allies who agree to maintain relations with this country
Tawey's remarks came just one month after Panama, one of Taiwan's key strategic partners in the region, broke ties with Taipei to establish relations with Beijing.
The Taiwanese official spoke during a meeting with Dominican Foreign minister Miguel Vargas and a delegation of Taipei officials, headed by the foreign minister of that Asian nation, Wang Yi, in the framework of the UN General Assembly.
UN Security Council
On Friday Vargas thanked South Korean Foreign minister Kang Kyung-wha, for his country's support for Dominican Republic's bid for a non-permanent UN Security Council seat during the 2019-2020 period.
Russia, Spain, Turkey and Azerbaijan have also pledged their support for the Dominican Republic, which consolidates its aspirations of becoming a new member of the UN body for the first time.
The 33 Latin American and Caribbean Group (Grulac) member countries have already expressed their support for Santo Domingo..