Medina breaks ground for 48.3 MW wind park in the SW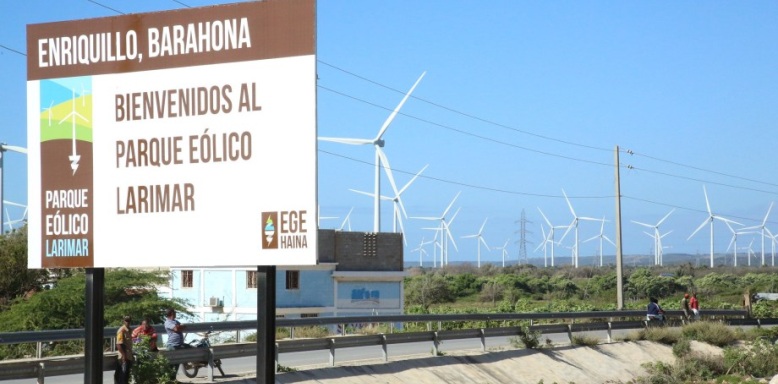 Larimar Wind Farm. File photo
Enriquillo, Dominican Republic.-  President Danilo Medina on Thurs. headed groundbreaking for the construction of the Larimar 2 wind farm, owned by the power company EGE-Haina, in southwestern Barahona province, set to start operations by yearend 2018.
In the keynote speech, EGE-Haina president Edgar Pichardo stressed the importance of the energy park, the fourth built by his company. "The start of the construction of Larimar 2 is a clear example of EGE-Haina's commitment of over a decade ago to develop wind technology as a fundamental resource for the balance and sustainability of the Dominican electric sector."
"When Larimar 2 is ready to operate by the end of next year, EGE-Haina will have supplied 175 megawatts to the Dominican Republic with an investment in four parks of over 400 million dollars," the executive said.
Pichardo said the park will increase the national wind capacity by 36%, which will consolidate the country's leadership in wind generation in the Caribbean, "and the purpose of EGE-Haina is to continue working so that this capacity will continue to increase in the future."
In recent years, EGE-Haina has built the Los Cocos 1, Los Cocos 2 and Larimar 1 wind farms, the latter inaugurated in March 2016. "With these the company contributes 94% of Dominican Republic's wind power company."
"To date, the company's wind farms have produced 1.2 million MWH of clean energy and have averted the emission into the atmosphere of one million tons of CO2, equivalent to the carbon dioxide emitted by 170,000 vehicles per year," Pichardo added.