Dominican Republic, the ideal UK-Americas trade link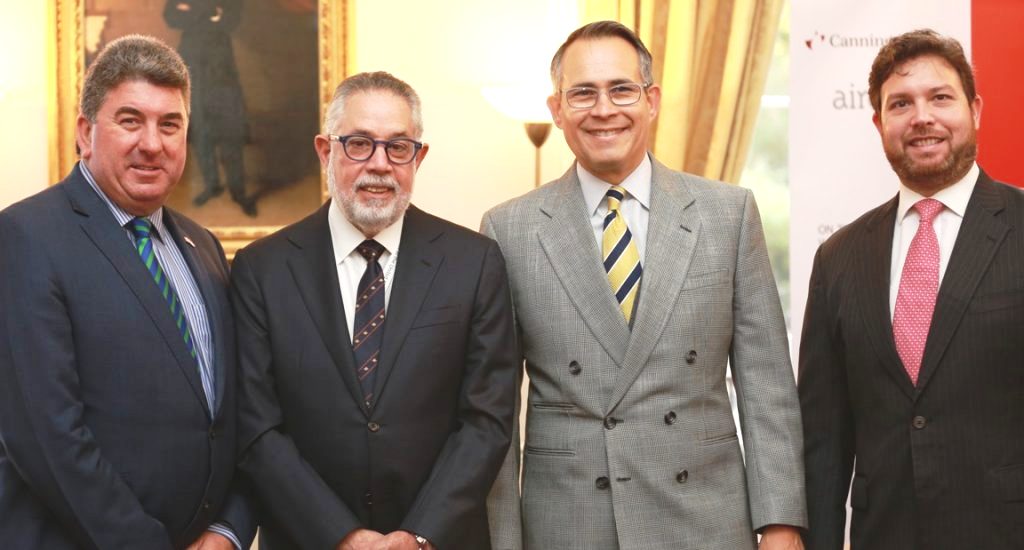 UK ambassador in DR Chris Campbell, Dominican Republic Industries Association (AIRD) president Campos de Moya, Dominican ambassador in London Federico Cuello Camilo, DR-British Chamber of Commerce (BRITCHAM) president José Rodriguez.
London.- The president of Dominican Republic 's Industries Association (AIRD) on Tues. called his country an ideal UK-Americas trade link, with the infrastructure and benefits British companies need to base their operations with the rest of the region.
Campos de Moya made the statement during Dominican Week in the United Kingdom. "Our country has ports and logistical facilities that allow the United Kingdom and the region to be connected and thus increase the commercial development of our industries."
Moreover, Dominican ambassador in Great Britain, Federico Cuello Camilo noted that the Dominican Republic is one of the region's few countries with a direct maritime connection with the UK.
"On our south coast, DP World Caucedo has a direct connection to DP World London Gateway, with two ships, one from Hamburg Sud and another from CMC-CMG. And in the north, Manzanillo has Geest Lines weekly service to Portsmouth Harbor. These services guarantee fewer than 9 days of transit time to the United Kingdom, the lowest in Latin America and the Caribbean, " the diplomat said.
Speaking during in London's Canning House as part of the VI Dominican Week in the United Kingdom, De Moya and Cuello stressed the country's qualifications as Hub of the Caribbean.
Meetings
As part of the event, with British and Dominican business leaders held meetings with Industry and Commerce minister, Nelson Toca and British Chamber of Commerce president, José Rodríguez.
The Dominican Republic is the UK's main trading partner in the Caribbean and officials from both countries have taken advantage of Dominican Week to express interest in increasing bilateral trade.