Team which eradicated the Med-Fly gets international kudos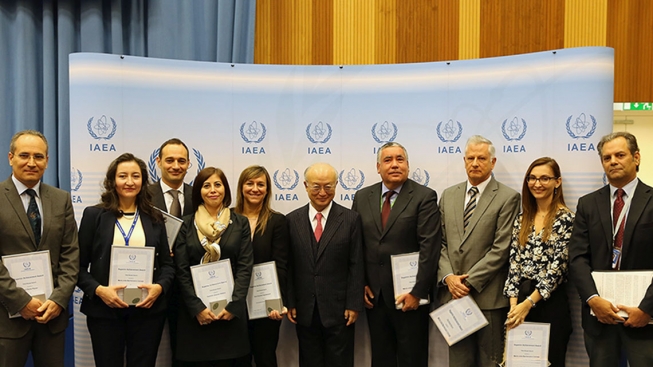 Awardees in a group photo with IAEA Director General, Mr Amano (centre). From left: Mr Saul Perez Pijuan, Ms Maria Julia Barrionuevo, Mr Javier Romero Cornejo, Ms Carmina Jimenez Velasco, Ms Eva Ciurana Casademont, Mr Yukiya Amano, Mr Rui Cardoso Pereira, Mr Jorge Hendrichs, Ms Elena Zdravevska, and Mr Walther Enkerlin Hoeflich. (IAEA)
Santo Domingo (iaea.org).- The team from the Joint FAO/IAEA Division of Nuclear Techniques in Food and Agriculture, Department of Nuclear Sciences and Applications, and the Latin America and the Caribbean Division, Department of Technical Cooperation, was presented with the prestigious IAEA Superior Achievement Award for its exceptional commitment, dedication, professional rigour and initiative.
The team members worked side-by-side from 2015 to help the Dominican Republic eradicate a major agricultural pest, the Mediterranean fruit fly, using nuclear techniques.
The presence of the Mediterranean fruit fly (Ceratitis capitata Wied.) was officially reported in the Dominican Republic in March 2015.