Big business refutes big tax dodger image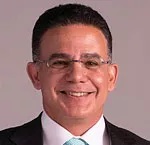 P. Brache
Santo Domingo.- National Business Council (Conep) president Pedro Brache on Tues. said the perception revealed by the Gallup-HOY survey that employers are the biggest tax dodgers is incorrect.
"My opinion is that it's incorrect. The business sector pays almost the majority of taxes in the Dominican Republic and is a productive sector that contributes a huge percentage to GDP, especially in taxes, so I think the valuation is incorrect," Brache said.
According to the Gallup-Hoy survey, in the ranking of those who pay their taxes the most, employers figure in last place with 37%, followed by members of the upper classes, with 42.3%.
In comparison, among those who best pay their taxes are the members of the middle classes (77.6%) and the small businesses (77.2%).